We are analysing whether an entire police area should be kept under lockdown or certain area such as a housing scheme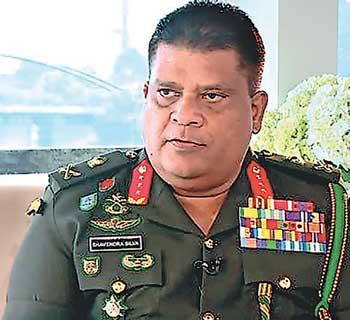 By Darshana Sanjeewa Balasuriya
Army Commander Lieutenant General Shavendra Silva yesterday said that prevailing COVID-19 situation in isolated areas are being analysed daily and that a decision to continue or to lift the isolation status in those areas will be taken by the weekend.
He said that among the isolated areas, further isolation areas have been identified and would be continued.
The Commander said that currently, only 24 police areas in Colombo and Gampaha are under lockdown.
"According to the instructions given by President Gotabaya Rajapaksa, we are analysing the isolated areas whether an entire police area should be kept under lockdown or certain area such as a housing scheme. Only the area which is a risk to the public will be isolated. We will not hesitate to isolate any area if there is a risk," he said.
He said there are some isolated areas that need to be further isolated. "Every decision will be taken to protect the public from COVID-19," he said.

Meanwhile, the total number of COVID-19 positive cases reported from Minuwangoda and Peliyagoda Fish Market clusters stands at 14,889 as of yesterday. Of them, 3,059 were from the Minuwangoda cluster and all other 11,830 were from the Peliyagoda Fish Market cluster.
there are some isolated areas that need to be further isolated
currently only 24 police areas in Colombo and Gampaha are under lockdown