Pettah,Fort identified as high risk areas
PCR tests will also be conducted on identified and vulnerable communities in curfew areas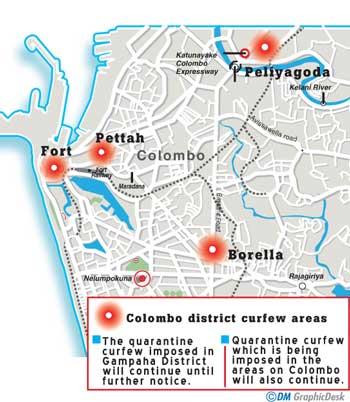 By JAMILA HUSAIN
The curfew imposed in several areas in Colombo including Pettah, Fort and Borella will be reviewed every three days and will be lifted once the threat in these areas subside, government sources told Daily Mirror yesterday.
Curfew had been enforced in several suburbs of Colombo as there had been pockets of infected persons detected in these areas, The infected persons have been linked to the Peliyagoda fish market cluster which is spreading at a rapid rate.

Sources said that several persons had been identified in Borella while several others had been detected in Pettah and Fort since these areas are located in the main trading hub, curfew had been imposed as a precautionary measure.

"Pettah and Fort have been identified as high risk areas since thousands of people enter and exit these areas for trade activities daily.

The imposition of curfew would prevent the further spread of the COVID-19," sources said. Authorities will review the situation in these areas every three days and will lift the curfew once the threat is completely eliminated.
PCR tests will also be conducted on identified and vulnerable communities in the curfew areas, especially in the congested areas in order to detect more possible patients and to assess the extent in which the infection has spread.

No decision has been taken yet to impose curfew in other areas in Colombo but contact tracing was ongoing and if pockets of patients are identified from those areas as well, then curfew will be imposed immediately to prevent further spread.
No decision has been taken yet to impose curfew in other areas in Colombo but contact tracing was ongoing and if pockets of patients are identified from those areas as well, then curfew will be imposed