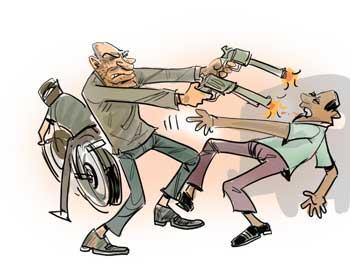 By Bimal Shyamon Jayasinghe and Nandawala Sendanayake
An armed gang who arrived in two motorcycles in Ilimba area in Horana had shot and killed a three wheel driver, and fired at another three wheel drivers house and had then fled the scene, said Horana Police.
The person who was killed had been identified as Wanniye Hemantha Chathuranga (32) a married three wheel driver residing in Ilimba Koswatte.

Sources revealed that the gang who had arrived at the scene yesterday had called the three wheel driver by his name waiting opposite his house, the three wheel driver fearing any eventuality had left the house discreetly with his wife and gone into hiding. Thereafter the gang observing that no one has come out of the house had fired continuously at the house and the outside area and had left. While they were on the move the three wheel driver had been returning in his vehicle, the gang who had been waiting outside had then fired at the three wheel driver. With the gunshots the driver of the three wheeler had lost control of the vehicle and veered off the road and hit a mound of earth and then come to a halt.

The injured who was in a pool of blood was then taken to Horana base hospital in a 'Suwaseriya' Ambulance but had succumbed to the gun shot injuries on admission.

The deceased three wheeler driver and the other who escaped the attack are not involved in any unlawful activities the police informed.

The police had found about 20 empty cartridges from the scene. The police also informed that the three wheeler had been damaged. The Magisterial inquiry was to be held yesterday and the Kalutara Police are conducting further investigations