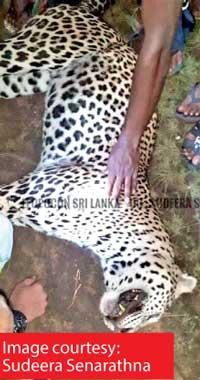 By Kamanthi Wickramasinghe
Another leopard that was caught to a snare succumbed to injuries in Yatawatta, Matale on Saturday (Nov. 28). This raises the total count to 12 leopard deaths for the year while 11 of them were due to snaring.
"The area doesn't come under the Wildlife Conservation Department and it falls between Kurunegala and Matale Districts," opined DWC Director General M.G.C. Sooriyabandara. "DWC was informed a day later but our officers including the veterinary surgeon reached the location in around 20 minutes.

But by that time the animal has suffered severe damage to internal organs and succumbed to injuries. The snare was one used for pigs and wild boar. It has a pole and when an animal walks around with it, they get trapped between trees causing damage to the organs."
When asked if it was an area that leopards frequent, Sooriyabandara replied in the negative. "We have placed camera traps in the area but haven't come across this animal. It could be that it had a larger home range." However, the DWC has conducted many awareness programmes on the use of snares and its impact on wildlife. "We have completed programmes in Nuwara Eliya and looks like we will have to educate villagers in these areas next. But awareness alone doesn't help. It is illegal and there are enough laws to prosecute perpetrators. If proven guilty there are enough fines and penalties."
Speaking about challenges Sooriyabandara further said that it's difficult to keep a close watch on all incidents related to wildlife with the limited cadre available. "There are only 1,100 wildlife officers located islandwide. There are no offices all over the country and there's no point setting up offices in places where isolated animals are found. Even if there are offices people won't stop poaching."
He further said that an investigation is underway to identify the perpetrators.
Speaking on the matter, Convener at Rainforest Protectors Sri Lanka Jayantha Wijesingha said that what needs to be done is to appoint 'leopard guardians' in areas that leopards frequent. "But the DWC should firstly identify these areas. By appointing a community leader the people will have a sense of responsibility towards protecting the animal."

The leopard is a protected species as per Section 30 sub-section 2 of the Flora and Fauna Protection Ordinance. Therefore, it is an offence to injure, harm or kill a leopard or to keep a live animal, dead body or any part of the body. It is also an offence to sell or expose to sell a dead body or body parts or trade in live animals. Although it is illegal to lay snares in protected areas including forest reserves, national parks and sanctuaries, people still have the practice of laying snares outside these areas to trap wild boar and other animals that damage crops. As a result, leopards, dogs and other animals also get caught in these traps.