Disaster preparedness through DMC, Defence Ministry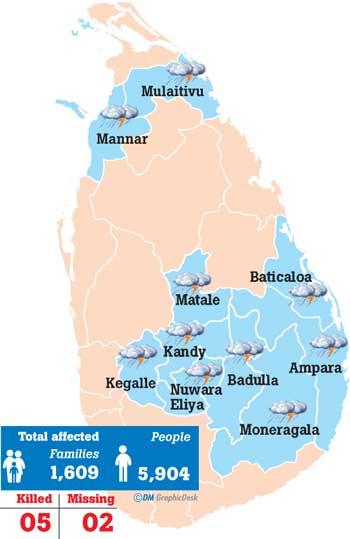 By Lahiru Pothmulla
President Gotabaya Rajapaksa has instructed relevant officials to take immediate measures to ensure the welfare and security of victims of floods, landslides and other natural calamities as a result of adverse weather prevalent in the country.
The President's Media Division (PMD) said officials at ministries and district and divisional secretaries had been instructed to take necessary action to mitigate the impact of natural disasters by cooperating with the Defence Ministry and Disaster Management Centre (DMC).

"Circulars have been issued informing relevant officials to coordinate with the Defence Ministry and DMC to prepare for disaster situations including landslides, falling of rocks and earth embankments, to mitigate their impact, respond immediately and ensure people's welfare," it said, adding that Prime Minister Mahinda Rajapaksa would spearhead the coordination and reviewing of the undertakings.

According to DMC, more than 5,000 individuals have been affected from prevailing adverse weather conditions which had left four people dead and two others missing.