I am not conversant with the Constitution as a man living in the forest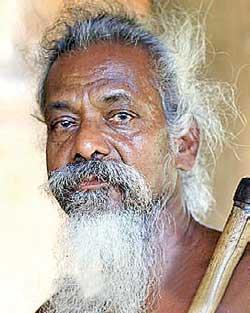 By Ranjith Karunaweera
Veddah Chief Vanaspathi Uruwarigelage Vannila Ettho said the proposed 20th Amendment to the Constitution would perhaps result in adverse effects on the society under a future President.
He said that it should be passed in consultation with the Mahasangha and the scholars who had been expressing diverse views on the issue.

During a meeting with General Secretary of the Ceylon Mercantile and Industrial General Workers Union Sylvester Jayakody and President of the Information Technology Professionals Union Kapila Reunka Perera last morning in Dambana the Vedda Chief said the people had absolute trust in the present President that he would not misuse the powers vested in him. However, any provisions of the Amendment vested with excessive powers to the President would result in serious repercussions in the hands of his successors. " I am not conversant with the Constitution as a man living in the forest. However, judging from what I hear from the Mahasangha and the scholars and individuals who meet me, I find that the proposed amendment has been gathering momentum and much has been talked about it. I believe that it should be subject to public opinion" he further said.
People have absolute trust in the present President that he would not misuse the powers vested in him