President and Cabinet will take the full responsibility of 20A as the people have given a mandate to SLPP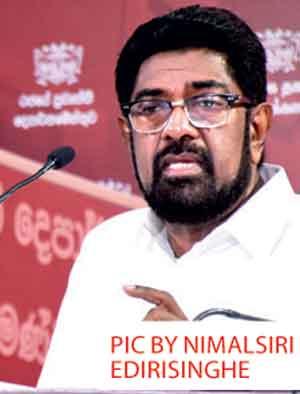 By Sandun A Jayasekera
The architects of the 20th Amendment to the Constitution were President Gotabaya Rajapaksa and the Cabinet and as such the government had no intention whatsoever to withdraw it simply because a plethora of divergent comments have been made about it, Co-Cabinet Spokesman and Minister Keheliya Rambukwella said yesterday.
President Rajapaksa and the Cabinet will take the full responsibility of 20A as the people have given a mandate to the SLPP government and President Rajapaksa at two major elections to replace the 19 A with the 20 A, Minister Rambukwella added.

All proposals, amendments and changes would be considered at the committee stage in Parliament when the 20 A is taken up for debate in Parliament.
Addressing the weekly cabinet news briefing last morning, Minister Rambukwella said the draft of 20 A, that has now been gazetted was taken up for a detailed discussion in the cabinet on Wednesday at which the report of the draft Amendments by a team of experts appointed by Prime Minister Mahinda Rajapaksa was reviewed.

Minister Rambukwella said the draft of 20A would be tabled in Parliament after two weeks from the gazette notification enabling any citizen or organisation interested in the draft amendments to file a petition in the Supreme Court for an interpretation within a week.

"We are ready to accommodate any positive and progressive amendment, suggestions of changes to the proposed amendments at the committee stage in Parliament. Therefore, no one must worry about the 20A as it is not something written on a stone. As a democratic government we are ready to listen to all and accommodate their positive suggestions," Minister Rambukwella said.

When 19A was introduced in the 100 day governance by the Yahapalana government in 2015, no opportunity was given for a public debate like today, he added.
Responding to a journalist, Minister Rambukwella said the cabinet agreed to the basic framework of the 20A and added it was drafted by the cabinet and the Legal Draftsman.
In response to another query, he said the government would not withdraw the 20A but incorporate any suitable proposals or changes.
We are ready to accommodate any positive and progressive amendments