Prime Minister Mahinda Rajapaksa has sacrificed the country's democracy and sovereignty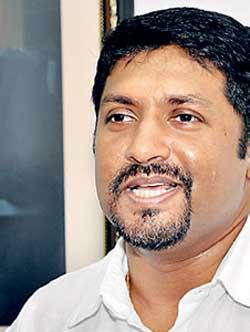 By Yohan Perera
The 20th Amendment to the Constitution is a modern version of the Siri Sanga Bo story, UNP Deputy Leader Ruwan Wijewardene said yesterday.
"King Siri Sanga Bo sacrificed his head so that his brother could regain power. The current Prime Minister Mahinda Rajapaksa has sacrificed the country's democracy and sovereignty," Mr. Wijewardene told a press conference.
Mr. Wijewardene alleged that the government is engaged in a conspiracy to buy MPs to vote in favour of the 20th Amendment as it is was not sure of a two thirds majority. Elaborating his party's stance on the 20th Amendment, he said allowing someone who holds dual citizenship to rule the country could harm its sovereignty.
Mr. Wijewardene alleged that the government is engaged in a conspiracy to buy MPs to vote in favour of 20th Amendment