Hayleys PLC saw the gains made at the top line getting pared as the conglomerate's massive debt load continued to weigh on any progress made by its diverse business interests during
the March quarter (4Q19), the interim financial accounts showed. Hayleys recorded revenues of Rs.56.5 billion for the three months ended March 31, 2019, up 11 percent year-on-year (YoY).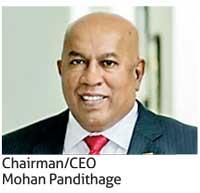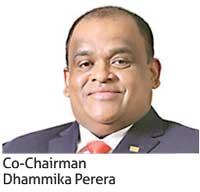 The earnings for the period under review stood at Rs.3.07 a share or Rs.230.6 million compared to Rs.11.03 a share or Rs.827.3 million reported for the corresponding period last year.

Hayleys share closed Rs.2.00 or 1.35 perc ent higher at Rs.150 yesterday, valuing the group at Rs.11.25 billion against a net asset value of Rs.61.9 billion. Almost all major business segments positively contributed to the group performance while consumer & retail, transportation & logistics and purification product segments gave additional tailwind to the group top line.

Hayleys reported Rs.4.7 billion in operating profits for the three months under review, virtually unchanged from a year ago, as heavy direct cost and overheads reduced the gains made at the top line level.

Meanwhile, the group's net finance cost rose 39 percent YoY to Rs.2.8 billion.

Hayleys group appears to be over-leveraged due to the leveraged buy-out of Singer Sri Lanka PLC for Rs.15 billion in September 2017.

Singer Sri Lanka purchase is yet to add value to the group's bottom line. The consumer durables retailer recorded a net loss for the most recent quarter ended March 31, 2019. Singer Sri Lanka itself is in heavy debt.

Meanwhile, for the full year ended March 2019, Hayleys group reported earnings of Rs.3.54 a share or Rs.265.4 million compared to Rs.13.65 a share or Rs. 1.02 billion reported for the previous year.

The revenues for the full year rose by 34 percent YoY to Rs.219.2 billion, of which consumer & retail led by Singer Sri Lanka adding Rs.67.2 billion while transportation & logistics and purification products business chipping in with Rs.45.3 billion and Rs.20.9 billion respectively.

Analysts opine that the sooner Singer Sri Lanka starts making money is better for the financial health of Hayleys group as any external factor that is not in their control could hinder the performance of the group's export business segments at any given time, which could lead them to borrow even more.

Billionaire businessman Dhammika Perera, who is rumoured to be flirting with the idea of running for the country's highest public office, controls 50.44 percent of Hayleys PLC while another 1.49 percent is held by Hayleys Group Services Private Limited.

The Employees' Provident Fund also holds 5.04 percent stake in Hayleys being the firm's third largest shareholder.