---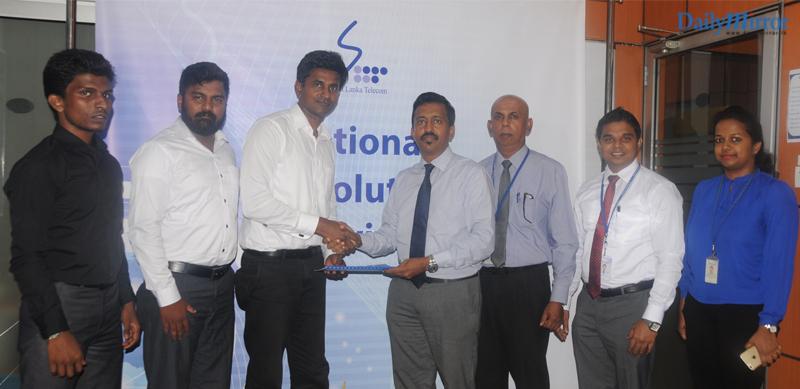 Mr. Ishantha Udara (DevOps Engineer of Work.lk), Mr. Chamara Sanjaya (Business Development Executive/ Work.lk), Mr. Anjana Ratnayake (Founder/Work.lk), Mr. Prabhath Dahanayake (Chief Marketing Officer/ SLT), Mr. Upali Jayakody (Deputy Chief Marketing Officer/SLT), Mr. Charles Ranaweera (DGM/SLT), Ms. Kaumadee Sooriyaarachchi (Engineer /SLT)
Sri Lanka Telecom (SLT), the leading ICT and digital solutions provider in the country was proud to announce the company's recent tie up with work.lk, the pioneering online freelance marketplace in Sri Lanka, to increase convenience to the general public in finding essential services online, whilst also empowering the freelance community in the country to find freelance jobs easily. The memorandum of understanding (MoU) between the two companies was signed recently at SLT head office premises in Colombo Fort, by authorized signatories, Mr. Anjana Ratnayake- Head / Founder of Work.lk and Mr. Prabhath Dahanayake- Chief Marketing Officer of SLT. Several other officials from both companies participated for the agreement signing.
The recently launched www.work.lk, which is the first freelance website in Sri Lanka, is an online marketplace designed by EFutureTech Systems (Pvt) Ltd. It enables people to easily hire any type of workers for a job including skilled labour such as plumbers or electricians or even professionals such as auditors or IT professionals without any hassle. It enables job requirements to be published on the website free of charge, allowing interested parties to bid for the job or call the client. Alternatively customers have the option of searching through the work.lk database for suitable professionals / freelancers. It also provides a platform where freelancers can advertise themselves by registering their profiles with work.lk, which is also available free of charge. This provides the ability for professional freelancers, or even students, housewives or others to earn an extra income by marketing and advertising their skills through the work.lk website.
Under the MoU, SLT will facilitate its customers by providing the required platform which will enable them to subscribe for work.lk services by choosing the "Pay with SLT" option. Using this payment option, SLT customers are assured of subscribing and paying for services of work.lk in the most convenient and secured manner.
This partnership is in line with SLT's vision of becoming Sri Lanka's preferred digital lifestyle partner by the year 2022 and is part of a series of endeavors embarked on by the company to introduce innovative digital services to enhance living standards of citizens of Sri Lanka. The Chief Marketing Officer of SLT, Mr. Prabhath Dahanayake gave his comments concerning the MoU saying, "We keep and act upon our promise to be the national ICT and digital services provider to the nation. This is one such initiative that we have embarked on to fulfil our promise to the nation, by enabling and facilitating digital lifestyles for the citizens of Sri Lanka. SLT invites start-ups, students and educational institutes as well as others with innovative and creative ideas to partner with us so that we can support and empower you to take your innovative ideas to the nation."
Mr. Anjana Ratnayake, the Head and Founder of Work.lk also gave his comments saying, "At Work.lk, our vision is to create an efficient and user-friendly market place for those who need services or providers of services in Sri Lanka. At present, we already have over 20,000 skilled professionals registered with us. We are indeed delighted to partner with Sri Lanka Telecom for Work.lk. This partnership will provide us access to SLT's large customer base that spans across all parts of Sri Lanka, which will enable us to successfully expand our services to households across the country, enabling us to serve and empower more people in Sri Lanka, no matter what part of the island they live in."