---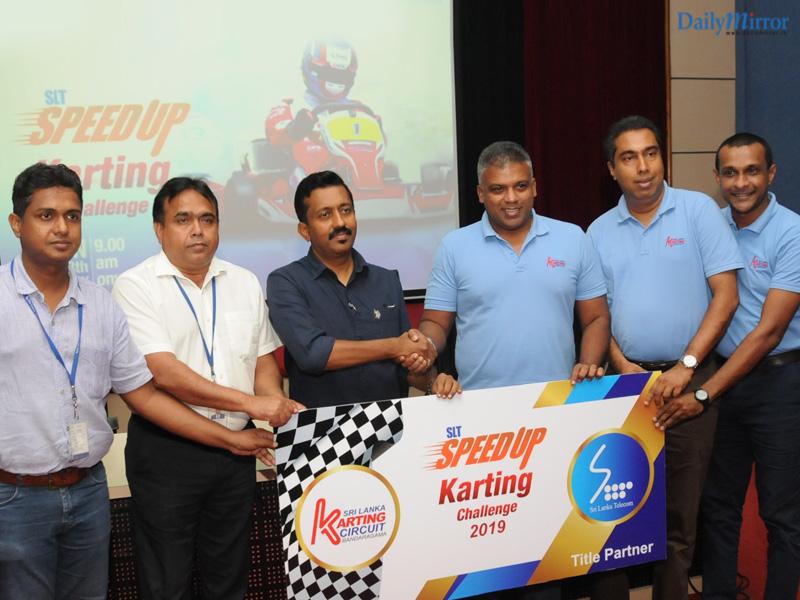 Mr. Asitha Jayasekara (Deputy General Manager - Corporate Relations - SLT), Mr. Rohana Ellawala (General Manager-Corporate Branding - SLT), Mr. Prabhath Dahanayake (Chief Marketing Officer - SLT) Mr. Naalaka Madugalle (Managing Director – David Pieris Racing and Leisure Pvt Ltd), Mr. Niroshan Serasinghe (Chief Operating officer - David Pieris Racing and Leisure Pvt Ltd) Mr. Rukshan Halpita (Head of Marketing and Public Relations - David Pieris Racing and Leisure Pvt Ltd)
Sri Lanka's National Information and Communication Technology Solutions Provider Sri Lanka Telecom PLC partnered with Sri Lanka Karting Circuit, Bandaragama (SLKC) to promote the 'SLT Speedup Karting Challenge 2019' with a view of providing the public with a novel sporting experience. Aligning with the widely acclaimed 'SLT Speed Up' programme started in 2015, the Karting Challenge will be taking place at Sri Lanka Karting Circuit in Bandaragama on 13/07/2019 from 9 A.M. onwards. Teams are willing to accept this challenge and be part of an astonishing experience can still register for the event. SLT's main objective of being the Title Sponsor of this event is to address the increasing demand for activity-based leisure experiences while contributing to expand the market segment of sport tourism which is an emerging sector with promising benefits for the nation. The race is organized and conducted by the Ceylon Motor Sports Club to ensure international standards.
Symbolizing SLT's ultra-high-speed fibre broadband solutions delivery by focusing on the concept of 'SLT Speed Up', the company commenced the 'SLT Speed Up Cycle Sawariya' in the year of 2016 with a clear view of exposing and recognizing the talents in the field of cycling, which was greatly admired by the youth. Following the same theme "SLT Speed Up", the Southern Eliyakanda Hill Climb 2019 was held recently at Browns Hill in Matara. The present Karting Challenge will be conducted based on the success of the previous events in the Speedup series.
In such a context the SLT Speedup Karting Challenge will be influential in encouraging the international standards in relation to speed-related sports in Sri Lanka. All necessary arrangements have been made by the company to provide both the players and the spectators with an exciting sporting experience at the SLKC which is the only activity-based leisure and entertainment destination of this kind in the country. SLKC was awarded Commission Internationale de Karting / Federation Internationale De L'Automobile (CIK/FIA) accreditation, making it the only karting track in South Asia to get this certification and to be raised to the international standards.
The Circuit is owned and operated by David Pieris Racing & Leisure (Pvt) Ltd a member of the David Pieris Group of Companies. Through this initiative, SLT aims at developing the highest global standards with prime focus on quality, comfort, safety and service for all Sri Lankans.
SLT has proven that it is dedicated in developing the nation from different aspects. In the course of its businesses the entire SLT Group has been making a huge contribution to the development of state-of-the-art ICT solutions and related infrastructure as its core business objective while at the same time contributing towards the development of other aspects through initiatives such as this, setting an exemplary example for all stakeholders in the industry.