---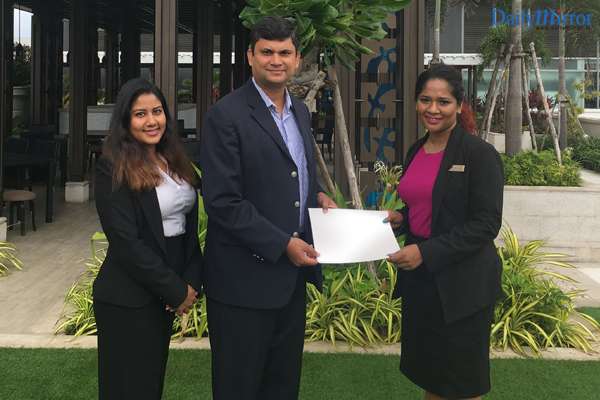 (From left) Sheranga Perera, senior specialist - account management, Mastercard; R. B. Santosh Kumar, country manager, Sri Lanka and Maldives, Mastercard and Chandula Rambukwella, Business Development Manager – Golf Sales & Membership, Shangri-La's Hambantota Golf Resort & Spa
Mastercardand Shangri-La's Hambantota Golf Resort & Spa announced a strategic partnership in Sri Lanka to offer greater value to the growing number of affluent consumers in the country. Working together, they are rolling out an exceptional selection of benefits and privileges for Worldand Platinum Mastercard creditcardholders in Sri Lanka.
Mastercard and Shangri-La's Hambantota Golf Resort & Spa are teeing off their partnership with an exclusive deal on golfmemberships at the resort. Cardholderscan avail one night's complimentarystay at the property when payingClub membership fees with their Worldand Platinum Mastercard creditcards. This is applicable to payments made from August 20, 2018until December 31, 2018.
"At Shangri-La, we believe in creating engaging experiences straight from our heart, and it is imperative for us to understand guests' needs and desires to be able to do so. We are pleased tocollaborate with a partnerlike Mastercard, who shares these values, to reward the growing number of golf enthusiasts in Sri Lanka," said Moshi Perera, General Manager, Shangri-La's Hambantota Golf Resort & Spa. "As a first step, we would like to invite golfers from around the island to avail the Golf and Country Club membership offer, the first of a wave of benefits that we will be rolling out to Worldand Platinum Mastercard creditcardholders in the country." Moshi elaborates that Shangri-La's Hambantota Golf Resort & Spa is Sri Lanka's only golf resort with a par 70, 18-hole golf course, set amidst a vast coconut plantation and offers stunning views of the Indian Ocean.
"Being present in Sri Lanka market for over three decades, Mastercard has witnessed the steady rise of affluence in the country. This has brought with it a class of consumers with refined tastes and exacting demands. Mastercard's cutting edge data analysis capabilities together with our learnings from consumer engagement and reward initiatives allow it to stay attuned to their unique needs, wants and aspirations," said R. B. Santosh Kumar, country manager, Sri Lanka and Maldives, Mastercard."Mastercard is delighted to partner with Shangri-La's Hambantota Golf Resort & Spa on offering added benefits to Worldand Platinum Mastercard consumer creditcardholders in the island. It is part of an ongoing effort to enhance the rewards program to suit the evolving lifestyles and spending priorities of its premium cardholders. Mastercard will continue to indulge them with unmatched privileges together with its strategic partners."
Going forward, Mastercard and Shangri-La's Hambantota Golf Resort & Spa seek to continue to draw on their innate understanding of the evolving lifestyle preferences of these highflying consumers to reward and indulge them, both at home and around the world.