---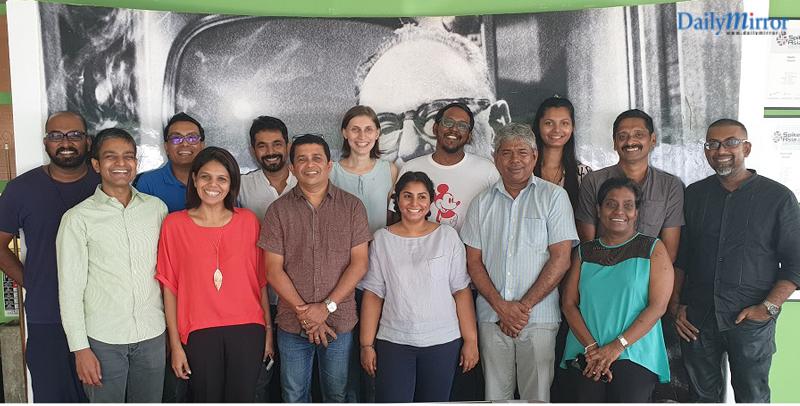 Leo Burnett Sri Lanka together with Leo Burnett Toronto recently won several awards at the prestigious Art Director's Club (ADC) Annual Awards programme. The agencies secured a Silver, Bronze and three Merits for their iconic 'Petal Paint' campaign for JAT Holdings. The 98th edition of the ADC awards took place in New York this May and is hailed as the longest running awards programme in the global advertising industry.
Leo Burnett Sri Lanka and Toronto secured a Silver Cube in the Advertising-Innovation – Direct category and a Bronze Cube in the Product Design, Sustainable/Eco-friendly – Single or Series category. The agencies also scooped up three Merits in the categories of Photography, Sustainable/Eco-Friendly – Single or Series and Product Design, Design for Good – Product Design Series.
Leo Burnett's Petal Paint campaign for local conglomerate, JAT Holdings, is an initiative that pays homage to Sri Lanka's rich heritage of sacred temple art, which can be seen in the form of captivating wall murals in shine rooms across the country. In Buddhism, flowers signify the impermanence of life and their highest purpose is to become an alter offering. However due to the high volume of worshipers, hundreds of thousands of flowers are discarded each day at many temple sites. The campaign involved giving those flowers a new purpose, putting them through an innovative drying process and extracting pigments from them to create a range of Petal Paints. The paints were then used to restore and create temple art, giving this sacred offering of flowers new life and meaning.
Commenting on the initiative, Arosha Perera – CEO of Leo Burnett Sri Lanka said: "The Petal Paint Campaign enabled us to use creativity to take temple flowers beyond the confines of a traditional offering, and give them a second life whilst contributing to Sri Lanka's rich cultural, historical and religious heritage. This initiative has garnered worldwide recognition and we are honoured that we were able to secure 2 awards and 3 merits at the prestigious ADC Awards as well. We are thankful that our client JAT Holdings trusted us to bring this idea to life and we are humbled by how well it has been received both locally and across the world. We will continue to explore innovative ideas of this nature to help our valued clients achieve their business and communication goals by unleashing the power of creativity and its ability to inspire change."
Also commenting on the project Aelian Gunawardene, the Managing Director of JAT Holdings said: "This ground-breaking campaign that was conceptualized and executed by Leo Burnett Sri Lanka, in collaboration with Leo Burnett Toronto epitomizes our vision to be an industry leader that is committed to innovation and new thinking. The Petal Paint campaign has enabled us to cut through the noise of a crowded marketplace and convey the essence of our brand using local traditions and beliefs. This campaign really does reiterate how well thought out creative ideas can be timeless, engaging and impactful. I'd like to extend my congratulations to the entire Leo Burnett team for their award wins and their ongoing quest to push boundaries and take Sri Lanka's communications industry to new heights."
The ADC Annual Awards programme, part of The One Club for Creativity, is the oldest continuously running industry award festivals in the world. These awards celebrate the very best in advertising, digital media, graphic and publication design, packaging and product design, motion, experiential and spatial design, photography, illustration and fashion design all with a focus on artistry and craftsmanship.
As Leo Burnett celebrates its 20th year of operations in Sri Lanka and looks ahead to the future, the agency will continue to help build powerful brands and meaningful partnerships with its clients, while delivering gratifying results and gaining peer recognition in the industry.