---
Dialog Axiata PLC, Sri Lanka's premier connectivity provider and the first and only network to offer Voice over Wi-Fi (VoWiFi or WiFi Calling), VoLTE (Voice over LTE) and eSIM service in Sri Lanka for the latest Galaxy Z Flip, Sri Lanka's first foldable smartphone from Samsung announced the purchase availability for the latest Samsung Galaxy device at The Dialog Iconic Customer Experience Centre for a limited time period.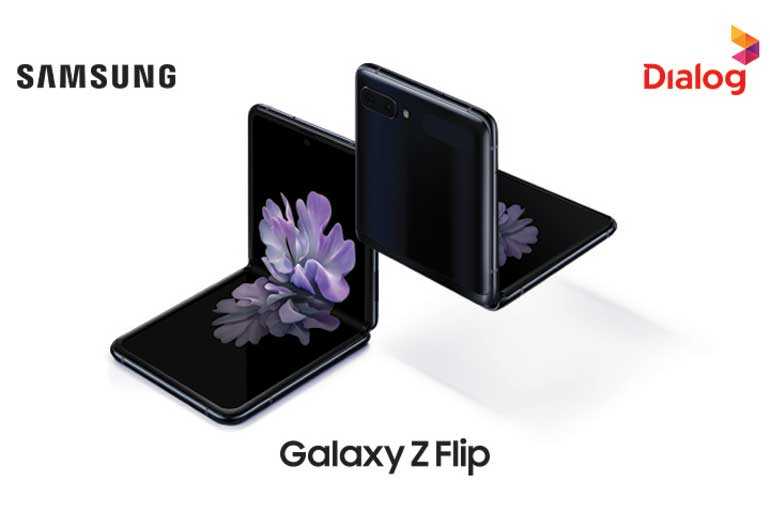 The Samsung Galaxy Z Flip is an avant-garde in technology making its mark in history as Sri Lanka's first, commercially available, foldable device. In a twist of innovation and design, this pioneering device caters to the needs of elite smartphone enthusiasts who revel in the breakthrough technology of its proprietary Ultra-Thin Glass (UTG) and hideaway hinge and is enabled with VoLTE, Vo-WiFi and eSIM. Available in limited-edition colours, Mirror Black and Mirror Purple, the Samsung Galaxy Z Flip will be priced at Rs. 293,990. Customers who purchase the device from The Dialog Iconic Customer Experience Centre will be eligible to receive up to 24 months 0% interest instalment plans with leading credit cards. Dialog Club Vision members have the added benefit of redeeming their loyalty discounts on purchase. An exclusive limited time offer, the Samsung Galaxy Z Flip will be made available to purchase from June 10th – 14th at The Dialog Iconic Customer Experience Centre. However, the device is currently available from 8th June onwards at The Dialog Iconic Customer Experience Centre giving customers an exclusive preview and first-hand experience with the product.
Launched by Samsung, Sri Lanka's No. 1 smartphone brand, in network partnership with Dialog Axiata, Sri Lanka's No. 1 Network, the Galaxy Z Flip is the precursor of the new foldable era and exhibits a compact and iconic design to meet the on-the-go communications needs of millennials. A treat to any mobile user, the foldable design sets the owner of the new Galaxy Z Flip apart as adventurous, bold and accustomed to exclusive experiences allowing a full-size display (approx. 4 inches when close and 55% of its unfolded size) to fit comfortably into a customer's pocket. An authorized partner of Samsung, this launch further facilitates Dialog's loyal customers with its promise of delivering 'The Future. Today'.