---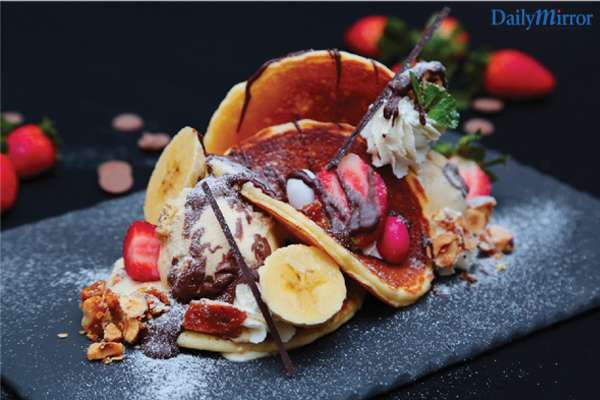 Ice cream keeps everyone forever young! That's the chant at Café Kai, from the 16th to 22nd of July. Hilton Colombo is celebrating Ice Cream leading up to the 22nd which is Ice Cream Day with a fantabulous ice cream menu.
The DOUBLE "XL" consists of 25 scoops of ice cream with crispy wafers, waffles and fresh strawberry, feuilletine crunch, roasted almond, berry compote, marshmallow, chocolate sauce, jelly beans, macaroons, cookies and the whole lot with Chantilly cream, whilst the "XL" consists choices of Ice cream Oreo, Coconut, banana with crushed Oreo, wafers stick, roasted cashew, roasted coconut, chocolate sauce, fresh strawberry and marshmallow. "Regular Size" - Vanilla ice cream, Cream caramel and date & brandy with salted caramel sauce, caramel popcorn crunchy wafers stick."Waffle" -Homemade waffles with amaretto finger biscuit, berry compote & espresso ganache and Tiramisu & Amarena ice cream whilst the "Crepe" consistsBanana foster crepes with fresh strawberry, chocolate sauce & caramelized hazelnut with cream Chantilly, Jaggery with cashew nut, Rum & raisins ice cream. Single scoops with cones or in a tub will also be available for those with smaller cravings!

In addition to these crazy Il Gelato ice cream combos, there will be a range of Floats, namely; Coffee Latte, Apple Tea, Strawberry and Hot Chocolate to choose from!
That's not all, the Ice Cream Challenge for adults and kids will take place on the 22nd July at Café Kai at 11am. So drop by during this fiesta and enjoy the yummiest of ice cream dreams put together by Hilton Colombo's Pastry whiz and Il Gelato.
For details, please contact the F&B Reservations Desk on 2492492 and log on to www.hitoncolombo1.com. fb/HiltonColombo to find out more on what's happening at the Hilton Colombo.