---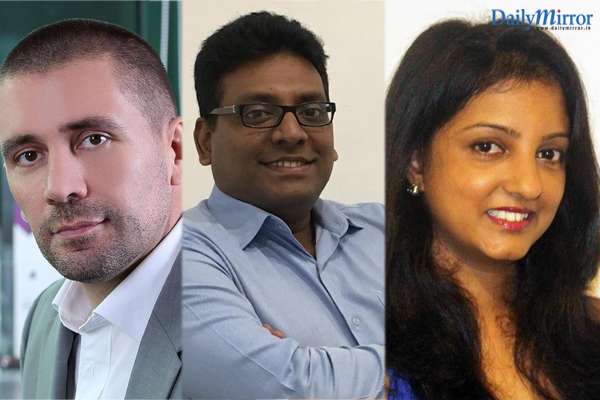 (L-R) Simon Griffiths from Aedas, Thilan Koththigoda and Thushari Wijesundara from KWA Architects
Aedas, a multinational focused on architecture and design together with the award winning Colombo-based architectural and interior design firm KWA Architects were the project architects of Sri Lanka's latest international shopping mall Colombo City Centre (CCC) that opened its doors to the public on 19 September.
CCC, the latest buzz and excitement in the city, is a collaboration of Abans PLC and Next Story Group. The mall which is gaining popularity from almost all segments is part of a massive 48 storey mixed development towering above the Beira Lake waterfront with over a quarter of a million sqft of retail space, 600 plus parking slots, 164-room city hotel and 192 luxury apartments.
Talking on the occasion, project's architects Simon Griffiths from Aedas with Thilan Koththigoda and Thushari Wijesundara from KWA Architects said 'We are delighted to see the first phase of Colombo City Centre Development come to such a wonderful completion and it is heartwarming to see how the people of Colombo have embraced this latest addition to their city.'
The design from the outset has attempted to blend in with the urban context while including some features uniquely Sri Lankan. The car park screen inspired by traditional Sri Lankan weaving patterns features the colors of the Sri Lankan national flag and forms a unique identifying feature. "In general, the car park façade is one of the most featureless elements in a high-rise structure. But in this instance we used it to celebrate the Sri Lankan identity of the building,' architects Griffiths and Koththigoda added.
The developers invested more than 100 million rupees into improving and upgrading the streetscape around the Colombo City Centre development for the benefit of the general public. Keeping in line with similar developments in other world class cities such as Singapore, Kuala Lumpur, Seoul and Melbourne, the streetscape outside the mall features public seating areas, water features, planting and varying soft and hard landscaping features and separation of pedestrian walkways from vehicular traffic where possible.
Colombo City Centre Mall also features Sri Lanka's first large scale food court with outdoor dining areas with stunning waterfront and ocean views and a six screen cinema multiplex. The building itself has other unique features such as country's first double helix vehicular access ramp and first unitized glass façade system on an ultra-high-rise structure.
'We should also thank the project approving agencies such as the UDA, CMC, Condominium Management Authority, Colombo Fire Department, Tourism Development Authority, City Traffic Police, CEB and NWSDB for their positive feedback and active assistance in realizing such a ground breaking project,' the architects further stated.
The projects division of Jones Lang LaSalle Lanka was the post contract project managers of the project and Sanken Construction was the main contractor along with a large group of sub consultants and sub-contractors.
KWA Architects is an award winning architectural & interior design firm based in Colombo. Aedas is a multinational architectural and design firm operating from 14 offices from Hong Kong to Los Angeles. With their extensive presence in China and South East Asia, they are at the cutting edge of the rapid development and growth of emerging markets, and use this experience and understanding, to provide design solutions that will meet the demands of Asia of the future.