---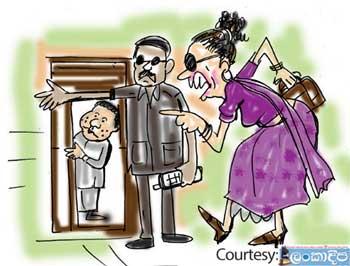 This gabby politico sworn in as a purohita recently had appointed his wife as the private secretary

She had called at the purohita's office the day after the latter had assumed duties and demanded that the door be opened but the security personnel at the Ministry had refused saying that they did not know who she was.

"We don't know who you are! Nor has anyone responsible told us to expect a lady calling here to assume duties," security men had told her when she tried to boldly walk in waving them off.

She had to wait outside the office for some time before the door was opened after ascertaining her identity, they say.

The Ministry staff who later discussed the matter in hushed tones shared the view that the purohita's wife could have spared herself the humiliation she had to suffer if she had the decency to introduce herself the proper way to the security personnel.