---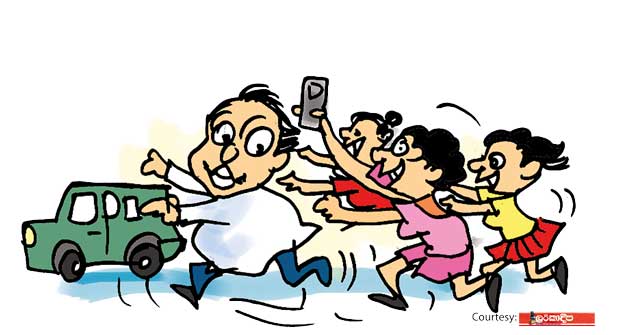 A purohita who held a very strong brief for increasing women's participation in politics at a seminar held the other day at a well-known Colombo 7 convention venue became a victim of unwitting harassment at the hands of the women participants at the conclusion of the event, they say.

Soon after concluding his address, the purohita, having made proper apologies was leaving the hall, when the women participants mobbed him and began taking selfies with him without allowing him to move away.

The purohita protested saying that he could not afford to lose time as he was due at an important conference shortly.

However, the women participants who were in an exuberant mood held the purohita a virtual prisoner for about one hour. Finally, he broke loose from the crowd with great difficulty and rushed to his waiting car, but the women pursued him unrelentingly.

The purohita who pushed himself into his vehicle did not forget to say a parting "Bye- bye!" with a wave to the women fans as he was driven away, they say.