---
This political character hailing from a 'nayake' family once held a very high office in the country. Though residing in the city, her political base is located in an area beyond Gampaha.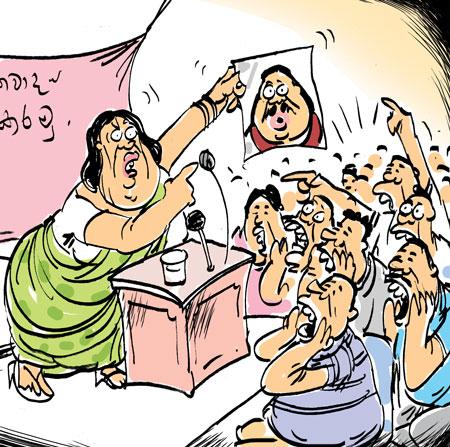 This onetime high-up was among the political and security panjandrums who participated in a security conference held in her area the other day. The local politicos representing the different political parties too attended this conference.

While the security situation in the area was being discussed, some participants pointed out that a certain 'alien community' that has now become part of the local population has become a security threat to the people in the area.

When this allegation gave way to a dispute leading to protracted arguments for and against it, the onetime high-up in the country, rose to her feet and called for silence.

Thereafter, she fired a broadside at the former strongman faulting him for settling down the 'aliens' in the area and for other acts of commission on his part which, she alleged, had given rise to a host of security problems.

As she continued her tirade against the former strongman, a section of the audience turned restive. Unconcerned about the visible angry reaction of some participants, the onetime political high-up was holding forth and suddenly boos arose from the rear seats. Soon the place was in an uproar and there was no possibility of going ahead with the agenda of the conference.

Finding that there was no letup in the growing hostility, the onetime high-up left the venue with her security escort. And it was the end of the conference.

Later most participants blamed the onetime high-up for treating the important event as an occasion to make accusations against political foes.