---
Mangi is a politico who believes in straight talk on any subject under the Sun be it to its political advantage or disadvantage. Mangi's latest sensational statement that Sri Lanka is not a Sinhala Buddhist country, came in for much criticism from many quarters and it has drawn the ire of some young Green Diyawanna members as well.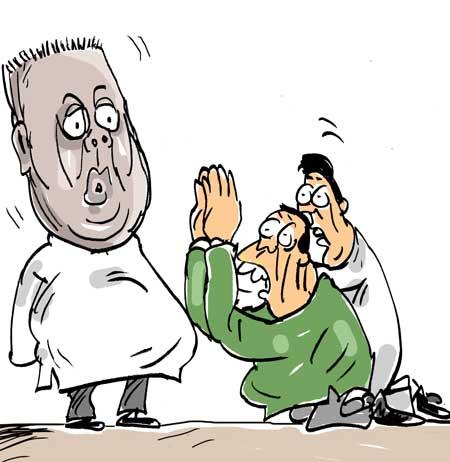 These young Green members say that the public statement made by Mangi has created a situation in the country where they cannot walk on the road without attracting brickbats and they have now decided to make an appeal to him in writing with a copy to the party leader to bridle his tongue.

Following is a rough translation of the last para of the appeal letter in Sinhala which is to be handed to Mangi: "…whatever you may say, we believe that we have a race and a religion. This goes for our party followers as well. Our place in politics in the future would be the opposition, not the government if you try to plunge us into another pitfall instead of trying to get out of the one we are already in. We kindly request you not to subject us to such a fate!"

These members have also decided to say adieu to Mangi worshipping him on bended knees after handing the appeal to him.