---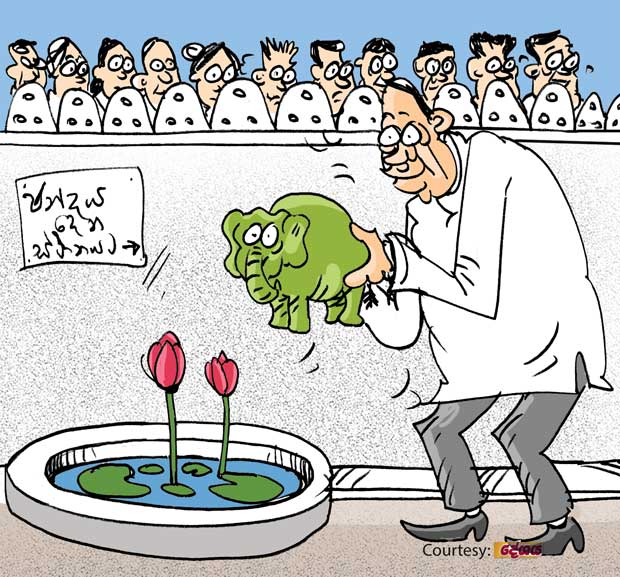 This is a drama that unfolded at a Buddhist temple in a city suburb on the recent local poll day.

The dharmasala of this temple was one of the public places used in the area as a polling booth. There is a large pond lying by the side of the path leading to the dharmasala. This pond dotted with lotus flowers in bloom and in bud is a beautiful scene to behold these days.

This pond became a great attraction to the voters on polling day and they would feast their eyes on the pond as they walked past it to the polling booth.

A Green party activist observed that the voters on their way to the polling booth were watching the lotus flower pond with great admiration and it suddenly struck his mind with the impact of a hammer blow the significance of the lotus flower - the lotus bud was the symbol of a rival political party and the pond was a veritable advertisement for that party at a psychological moment!

The Green activist lost no time informing the party candidate in the area about the pond advertising the 'lotus bud'.

The candidate who got highly agitated rushed to the temple and lodged his protest against the voters having to walk past the lotus pond on their way to the polling booth. He did not listen to the explanation that the presence of the lotus pond was something purely accidental and there was no other access to the polling booth. The election officials and the incumbent monk who were highly disconcerted by this unexpected development were looking for a solution to save the situation when one of them came out with a brain wave. He turned to the candidate and told him: "It's too late for us to shift the polling booth elsewhere or change the path leading to this place. Your grouse is that the lotus pond is a reminder of a party symbol. Why don't you plant a symbol of your own party near the pond so that the voters will notice that as well?"

The candidate having agreed to this suggestion rushed to a shop close by, bought a figure of an elephant and placed it by the side of the lotus pond. Thus an ugly scene that could have occurred at this polling booth was averted!

However, the bell party activists who heard about the incident had made a protest against planting an elephant figure by the pond side, they say.