---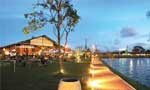 This New Year's Eve, value for your money is at "Waters Edge" Grand Ball Room. The "Restaurant with a Dance Floor" provides an ideal concept for the whole family to enjoy.

Dance to the music of Manilal & Upekkha and beats of a special DJ in attendance. Enjoy a sumptuous multi cuisine buffet, BYO (bring your own liquor) with no corkage, for Rs.6000 (nett per person all inclusive) including prizes and surprises from 8 pm. onwards.
Manilal and his band Upekkha ( M& U) performs every Wednesdays and alternate Fridays at the "Long-Bar". Like good old days, he invites his friends and fans to come and relax and enjoy his sounds.