---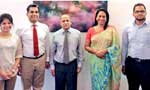 Analytical Instruments ( AI) has acquired the expertise of MTI Consulting to develop its strategic plan for the next 10 years.
The project kicked off on July 11 and is at the initial stages of the strategy development exercise. MTI's Bahrain-based CEO Hilmy Cader will be taking onthe lead on this project given MTI's impressive credentials in strategic planning, both in Sri Lanka and the region.
Analytical Instruments, which was established in 1989, has grown exponentially over t he years t o become a key supplier of latest technologies and products to diverse markets in the laboratory industry of medical, analytical and agriculture sectors in Sri Lanka, reliably and efficiently.

Currently, their portfolio includes quality branded products such as medical diagnostic products and reagents, high-technology analytical equipment and i nstrumentation, animal husbandry products, general laboratory products, consumables and chemicals.On January 1, 2014, AIPL celebrated 25 years of its committed presence in the industry. AI is setting sights of becoming the most trusted partner in the laboratory industry in to the future.

It is to make this goal achievable that AI has used the services of MTI Consulting to identify and plan its long and medium-term growth objectives and strategies.At the kick-off session, Analytical Instruments Chairman Jayasundara said, "AI is at a juncture where it needs to assume complete ground zero in order to critically review the current business strategies and reformulate them in line to the goals set for the next 10 years.

In the process there are several challenges that need to be addressed such as the development of a business and governance structure, succession plan and identification of additional revenue streams. And this has been the rationale behind using an independent experienced consultant such MTI so that an outside in perspective can be taken when addressing each of the above."

This strategic planning exercise which is based on MTI's 8S Strategizing Model, was presented by MTIC CEO Hilmy Cader to the senior management of Analytical Instruments during the kickoff session. MTI's 8S Model is a robust framework that has been used in over 25 countries, across diverse industries.
This framework starts with identifying the scope of the business, scanning the operating environment, setting the sights for the business and formulating strategies that extends to systems, structure, social responsibility and staff.