---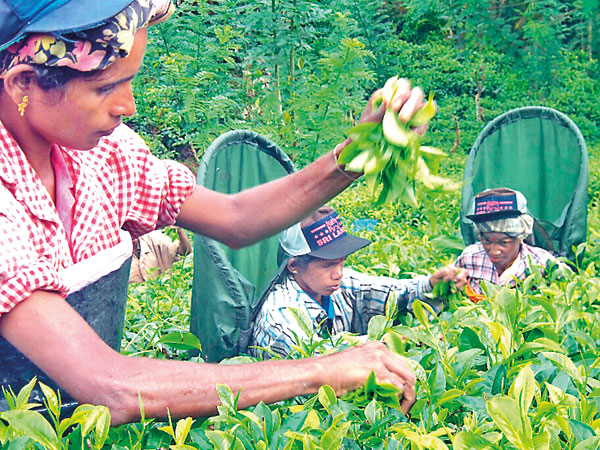 Text and pix by P.D. De Silva
The management of one of Sri Lanka's eco-friendly low country tea plantations - Lumbini Tea Estate - situated in Pallegama, Deniyaya, has decided to grow more China Tea (TRI 2043) to increase its annual production of the highly priced and rare Lumbini Gold Tips and Lumbini Silver Tips teas.
The 93-acre Lumbini Tea Estate and Lumbini Tea Factory is situated at an elevation of 450 meters above the mean sea level in close proximity to the Sinharaja Forest Reserve and produces around 400 kilogrammes of gold and silver tip teas in addition to the 600,000 kilogrammes of orthodox black teas produced each year. Lumbini Gold Tips tea fetches around Rs.30,000 per kilogramme while Lumbini Silver Tips fetches around Rs.20,000 per kilogramme.
The gold and silver tip varieties of tea, also known as white tea (Camelia sinsis), are known to contain anti-oxidants, which help prevent cancer, high blood pressure, cholesterol and ageing. White teas are also known to have anti-bacterial and anti-viral properties and help to strengthen teeth and gums.
The Lumbini Golden Tips tea could be described as a golden brew with a tender flavour and smooth aroma while the Silver Tips tea is said to have a very light taste and is extremely delicate and smooth on the pallet.
The gold and silver tips are the handpicked tender tea buds of the tea leaves of the TRI 2043 variety, which are withered and air dried or sun dried to produce these exquisite white teas.
"We believe in producing quality teas with the best combination of flavour, aroma and appearance under ISO 22000:2005 certified super hygienic conditions," said Lumbini Tea Factory and Lumbini Tea Estate CEO and Managing Director Chaminda Jayawardena.