---
Kuwait Airways commenced its Colombo Operations way back in 1972. With a history of 43 years in Colombo, Kuwait Airways has been gradually expanding its services with the emerging need.

It is with great pleasure, that we announce our daily operations effective from 31st March 2015 with the expansion of new destinations and daily connections to certain destination such as New York, London and the main European hubs such as Frankfurt, Paris, Rome & Geneva. Further passengers travelling to Amman, Medina will have special benefits included as well. New destinations which would be added in July are Munich, Vienna & Istanbul.
His Excellency Yaqoub Al Ateeqi [Ambassador of the State of Kuwait to Sri Lanka and the Republic of Maldives] said,

I am very proud, that Kuwait Airways is starting its daily flights from Colombo, beginning 31st March 2015. Relationship between State of Kuwait and Democratic Socialist Republic of Sri Lanka has always been friendlier and solidarity throughout the history and further we would like to strengthen the relationship between the two countries even more. There are 130,000 Sri Lankans employed in Kuwait currently and with the increase it would strengthen the bilateral relationship between the two nations. Sri Lanka has been an exotic location for the Kuwaitis to come and enjoy their Holidays because of the prevailing harmony and stability in Sri Lanka. With the new development, it's my gratitude to wish the addition of 7th frequency a success.


Additionally there would be a increase of 1160 seats & cargo space with the daily operations which is due to start on 31st March 2015. It will offer our valued passengers to have date flexibility, quick connections, dual European destinations with great convenience & affordable cost. Cargo capacity will now increase with extra tonnage available.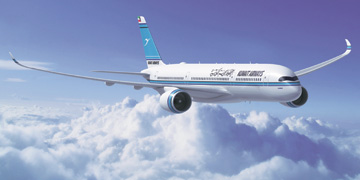 Mr.Sudesh Rupasinghe
[Country Manager- Kuwait Airways Corporation] said,
Sri Lanka is developing as a aviation hub, Kuwait Airways who has been a part and parcel of the development is further enhancing its presence in the local market. The growth has been phenomenal & Kuwait Airways is very keen to invest vibrantly in the local market . Our products connectivity, pricing is to a greater extent un-match able. The pricing combination to Europe & USA are very economical and value for money. The business class pricing could be combined with first class pricing in order to enjoy competitive pricing advantages. Our frequent flyer program "Oasis Club" is one of the best in the world. Further Mr.Rupasinghe thanked all stakeholders in the Sri Lankan market mainly the travel agent, tour operators. Cargo agents and all of the government authorities for the support & confidence in the Kuwait Airways product. Of importance GSA [Delmege Air Services] for its outstanding contribution & efforts towards a successful Kuwait Airways operation to & from Colombo.
Mr.Ravi De Silva
[CEO- Delmege Air Services] said,
Daily Operations from Colombo is a macro commercial goal achieved by Kuwait Airways and Team Delmege. We at Delmege are privileged and it is with great pride we represent Kuwait Airways for the territory of Sri Lanka & Maldives.
Alongside these developments, Kuwait Airways believes that our real wealth is the human element in how we take care of our passengers and our KU Sri Lankan team. Kuwait Airways will continue to develop its strategies in many sectors following the latest methods used in today's airline industry for the benefit of our valued passengers
In Picture- From Left | Mr.Sudesh Rupasinghe [Country Manger-Kuwait Airways Corporation], His Excellency Yaqoub-Al-Ateeqi
[Ambassador of the State of Kuwait to Sri Lanka and the Republic of Maldives] & Mr.Ravi De Silva [GSA-CEO Delmege Air Services].