---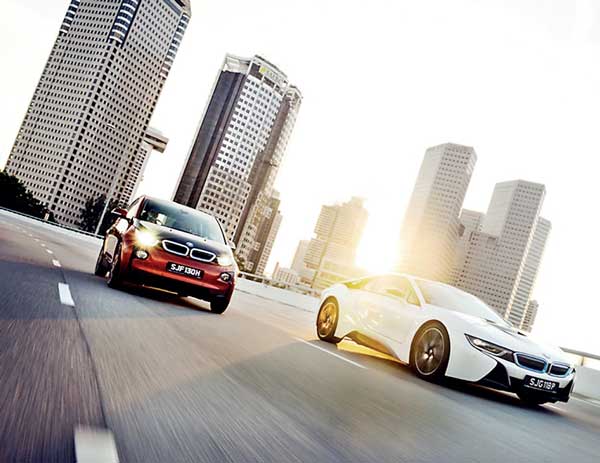 With the impending launch of the all-electric BMW i3 and the plug-in hybrid BMW i8 slated for tomorrow, BMW Group Asia and Prestige Automobile (Pvt.) Ltd have jointly invested more than Rs.75 million in terms of BMW i facilities.
As Sri Lanka eagerly awaits the arrival of BMW i vehicles, the investment is by far the largest-ever made locally by any automotive brand pertaining to electric vehicles (EV) and covers various key areas: sales, after-sales, training, communication and infrastructure.

"We recognize that EV ownership is a relatively new concept to a lot of consumers today. Additionally, BMW i cars have various unique features such as a carbon fibre reinforced plastic (CFRP) body and is powered by a high-voltage lithium-ion battery, which may pose as further perceived barriers to EV ownership for many. Indeed, BMW i cars will require special equipment and highly-skilled staff to handle them, but I'm proud to announce that we are ready for it," said BMW Group Asia Managing Director Axel Pannes.

The investment made provides Prestige Automobile with the necessary facilities and equipment to handle CFRP repair and high-voltage lithium-ion battery maintenance, which are the two major components required in servicing BMW i vehicles. Extensive technical expertise in these areas has also been gained by the local staff through rigorous training courses.

"Prestige Automobile is immensely honoured to be selected to exclusively represent the new iconic BMW i electric vehicles here in Sri Lanka. Our fast-paced world is evolving so rapidly that we are now entering an audacious new era in sustainable mobility and we are proud to be a part of the global effort to reduce the carbon footprint collectively. BMW i brings to life the BMW's cutting-edge knowledge of EV high-voltage battery technology and CFRP expertise.

Our substantial investment in time and resources to train all our staff and equip our service centres for BMW i, further demonstrates our commitment to the global 'greening' of motoring," Prestige Automobile Managing Director Heinz Reuter said.

BMW i Carbon Fibre Centre
Built based on the unique LifeDrive architecture, the passenger cell of BMW i cars are made of CFRP, which is five times tougher than steel yet weighs only 50 percent of it. The drive module, which houses the high-voltage lithium-ion battery, is made of aluminium and offers significant weight-savings.
The new CFRP repair and servicing facility is able to repair CFRP structure of the Life module effectively by enabling repair on an isolated area without having to change the entire panel if the impact inflicted does not compromise the structural integrity of the BMW i vehicle.

The reparability of the CFRP structure of the Life module was top of the list of technical specifications during the development of the vehicle concept. For example, several repair sections were defined for the side frame. If a damaged side sill needs to be replaced after a side impact, the workshop performs a visual inspection and damage assessment and then removes only the side sill repair section using a patented milling tool. The necessary side sill component is manufactured to fit and then installed on the vehicle. The new part is then bonded to the separation points using repair elements.
The new BMW i Carbon Fibre Centre is located at No: 234-238, Pannipitiya Road, Battaramulla.

BMW i High-Voltage Battery Centre
Housed in the Drive Module of BMW i cars, the high-voltage lithium-ion battery is given a deep central positioning that results in a low centre of gravity and optimal weight distribution to ensure unparalleled agility and safety. A specially developed heating and air conditioning system ensures as few temperature fluctuations as possible, which significantly increases the service life of the battery.

Upon the purchase of a new BMW i vehicle, its high-voltage lithium-ion battery will come with a warranty coverage of up to eight years (from the starting date of the warranty period) or a maximum mileage of 100,000km, whichever comes first.
The BMW i High-Voltage Battery Centres are located at No: 234-238 Pannipitiya Road, Battaramulla.

Dedicated BMW i Sales Service concept
A dedicated BMW i sales corner will be set up on the first floor of the main BMW showroom at No: 234-238 Pannipitiya Road, Battaramulla, to deliberately position BMW i vehicles among the rest of the BMW models. Designed with a distinctive BMW i branding look and feel, the dedicated sales corner will display either the all-electric BMW i3 or the plug-in hybrid BMW i8 sports car.