---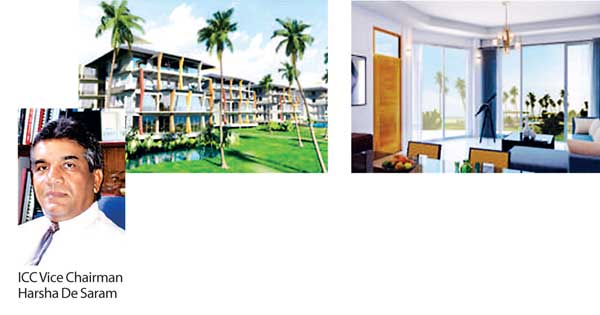 Oceanfront Condos, located in Nilaveli, is shaping up to be the first oceanfront condominium property in Sri Lanka. A project by International Construction Consortium (Pvt.) Ltd (ICC), a leading Sri Lankan general contractor, with over three decades of experience across several sectors, the project will over 54 condominiums in four identical building footprints.

Due to its location in one of the most scenic beaches in the island, residents are sure to enjoy panoramic ocean views and the serenity of nature. With spacious living spaces, high-quality fittings, as well as wooden floors, the condos are designed with the comfort of the residents in mind. The project's unique architecture allows ocean view from every condominium unit.

ICC Vice Chairman Harsha De Saram added, "Oceanfront Condos is the perfect answer to the hectic pace of city life; it is not just an idyllic escape. In addition to the 82-foot freshwater swimming pool set against the beach and beach gardens, residents can engage in scuba diving, blue whale watching and boat trips, as well as hold barbecue evenings under the clear starry skies of Nilaveli."
Oceanfront Condos is only a 45 minute flight from Colombo and is the gateway to a number of other destinations, including the newest golf courses in Sri Lanka, Pigeon Island, Fort Fredrick, Koneswaram Temple and Trincomalee Port, which is the second largest natural harbour in the world.
The project introduces a new concept to Sri Lanka, that is, oceanfront properties, and is being built upon a three-acre land. The gated community offers 24-hour security to the residents and the management of the condominiums will be done by the company itself. The construction team at ICC is currently engaged at the site and the construction work of Oceanfront Condos is set to be completed by September, 2017.

According to ICC, over 60 percent of the exclusive 54 condominiums have already
been purchased by the
prospective residents.