---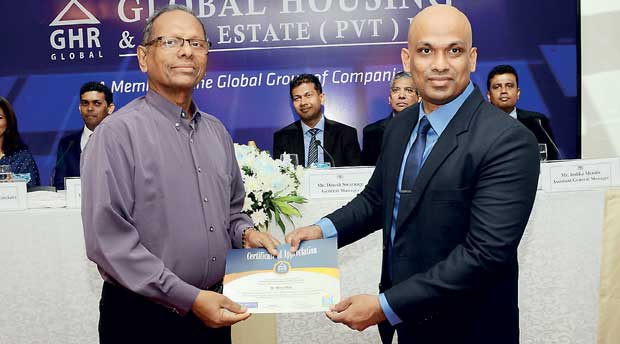 Marking yet another step in its journey of creating luxurious living spaces, Global Housing and Real Estate (Pvt.) Ltd officially launched its 14th luxury apartment project, Ocean Breeze Negombo, at a gala launch cocktail ceremony held at The Kingsbury
Hotel recently.
The first 10 customers who had bought Ocean Breeze apartment units received their agreements ceremoniously at the event while Global Housing and Real Estate (Pvt.) Ltd Chairman Dasun Wickramarathne introduced the project Ocean Breeze to those present, highlighting project details, security as well as the guaranteed income-generating nature of the
residential complex.
Located in one of the most sought-after coastal belts of Sri Lanka with convenient access to the Bandaranaike International Airport (BIA), Ocean Breeze will serve the dual purpose of being the ideal beach getaway, which affords significant financial gains throughout the year to investors and property owners.
Part of four concurrent projects carried out by Global Housing and Real Estate (Pvt.) Ltd, Ocean Breeze is the largest of these projects and takes the form of a hotel residency with 196 units. The resort-like units at Ocean Breeze is priced from Rs.8.6 million upwards.
"With Ocean Breeze, we take our luxury residential projects to the next level. Negombo is a renowned tourist destination that is busy all year around. Given its coveted location close to BIA overlooking a beautiful coastal stretch, investors can expect to reap substantial financial benefits from owning a unit at Ocean Breeze while also enjoying the fact that they have access to a luxurious holiday getaway equipped with the best modern amenities on offer. More importantly, Global Housing and Real Estate (Pvt.) Ltd will rent out and maintain units on behalf of customers to foreign and local tourists in search of deluxe beach resorts to spend their holidays, making this particular investment in Ocean Breeze a prudent one that will lead long-term financial gains," commented Wickramaratne.
The 12-storey Ocean Breeze was designed to accommodate all the luxurious facilities required by a modern beach resort. The fully air-conditioned building will contain a pool, a well-equipped gym, club house, sky restaurant, spa and salon, laundry facilities, hot water facilities, central gas, four elevators and 24-hour security. The building's ground floor and the four levels upwards serve as parking spaces while the levels from fifth to 11th floor house
living spaces.
"The Ocean Breeze project bears the same valuable characteristics that our projects invariably offer including close proximity to important localities and the absence of an additional 'price-premium' to customers. The latter is a direct financial benefit which we reap from being the owners of our own construction team and we pass on the benefits down to our customers," Wickramaratne added.