---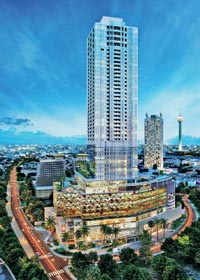 An iconic landmark of the Colombo city landscape takes shape in the sky as Colombo City Centre steadily rises to watch over the breathtaking emerald-green Beira Lake at an exceptional speed.

Being a majestic mixed-use venture developed by the Abans Group in collaboration with SilverNeedle Hospitality, Colombo City Centre will be reaching its 30th floor by the end of October. Even at this two-third mark, the building will stand approximately 110 metres or 360 feet above the ground.

This 48-storey development, upon completion in late 2018, will comprise of 192 high-end residences that will usher international quality vertical living in Sri Lanka; a contemporary lifestyle and retail mall featuring a plethora of premium international brands; and an upscale business hotel, Next Hotel, that will provide a futuristic approach towards meeting the needs of professional business travelers.
In particular, the CCC Mall, with a six-screen Cineplex, 720-seater food court and over 70 other offerings, is projected to open by Avurudu 2018. The mall currently hosts reputed local and global brands namely, Abans, Armani Exchange, Apple, Mango and Odel amongst many others.

"Colombo City Centre is one of the very few projects that proudly maintains its on-time performance. This Avurudu season, we will launch one phase of the development – the international quality mall, something that the denizens of the city have long deserved," remarked Colombo City Centre CEO Anand Sundaram regarding the construction status of the project.

Offering awe-inspiring views of the Beira Lake, Indian Ocean, and at night, the luminous city skyline that inspire both serenity and tranquility, the residences at Colombo City Centre have been carefully curated for the Colombo citizens of today.

Colombo City Centre is strategically positioned in an upmarket location within the Central Business District, where some of Sri Lanka's best schools, hospitals, shopping arcades, historical monuments and more are situated just a few minutes away. Apartment values have appreciated over 40 percent since 2016, which greatly enhances the short-term and long-term value of the development for potential investors. Residents will also receive a freehold title to their residences. Thus, it is no wonder that an estimated two-third of the apartments have already been purchased even before the launch of the mall.

Further, this unique development has received immense critical acclaim and international awards for its varied offerings including the coveted 'Most Promising Mixed Use Development' award by CMO Asia, Singapore, 2017.