---

hile more than 4.5 million children are back to school and into a new world of digital education through which they could attain unlimited knowledge with the press of a button, the General Certificate of Education (Advanced Level) Examination results were announced on Sunday—the most heartening news being that of the six students getting highest marks in different streams, as many as five were from outside the privileged and highly favoured Colombo District.

The Gampaha Ratnawali Balika Vidyalaya's Umesha Karunawallaba topped the country wide list in the science stream, Bandarawela Dharmapala Vidyalaya's Vasana Marasinghe in bio system technology, Matale St. Thomas' College's Shanaka Samarakoon in Engineering Technology, Kurunegala's Maliyadewa Boys' College's Akila Mohammed in Commerce and Kurunegala's Maliyadeva Girls' College's Jeeva Nayanamalee in the Arts. The only Colombo winner was Royal College's Dasun Jayasinghe, who topped the list in Maths, but he also had won a Grade 5 scholarship from a rural area.

How many will qualify for admission to State Universities and how many will be admitted, will be known in the coming months after the University Grants Commission works out the cut off marks.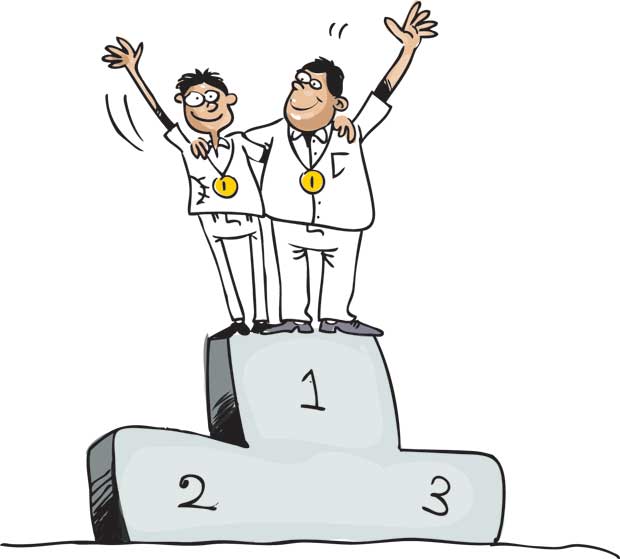 In October last year, the UGC announced that of the 58,716 students who applied for university entrance after the GCE A/L examination in 2014, 24,343 students had been selected for admission.

The UGC Chairman said that out of the 247,376 students who sat the 2014 GCE A/L examination 149,572 were found eligible to enter a university.
The UGC received 58,716 applications but only 24,343 of them were selected under the normal university intake. The figures portray the grave crisis in tertiary education with tens of thousands of O/L or A/L qualified young boys and girls, who have tremendous potential for jobs in which they could play a major role in Sri Lanka's socio economic development ending up in operations such as three-wheeler driving which often lead them into areas of crime also.
Prime Minister Ranil Wickremesinghe, in a widely publicised special message to the nation yesterday, said the national government would be taking the country into a new era this year, where the focus would be on socio-economic development with poverty alleviation, the provision of productive jobs and environmental conservation being given priority.

The prime focus of this three-year socio-economic strategy would be education and higher education whereby millions of young people would be taken into the digital world.

The Prime Minister, who is likely to play a bigger role in a socio-economic and political strategy of the national government this year, on November 5 outlined the midterm economic strategy, where he said the highest priority would be given to higher education.

As we mentioned yesterday, he said Sri Lanka was trapped in an economic crisis mainly because we did not have competent people to handle vital areas. The Premier said the focus would be on a knowledge based economy. The Vocational Training Ministry and the Science, Technology and Research Ministry would come together to identify and provide the professional skills Sri Lanka needed to rebuild itself and emerge as a model for South Asia.

The sweeping changes to overhaul the education process would involve knowledge mechanisms to meet job requirements and for the young people, especially to participate actively in national development.

ICT centres would be provided for innovation through which the young generation could access global opportunities. The Premier said laptops would be provided for university students on an interest free loan basis, while also providing free wi-fi zones for all Universities. They will also have internet facilities at special rates.

Techno-based campuses and vocational training institutes would be set up alongside the current Universities and a voucher system would be introduced to serve as a springboard for talented students from low-income categories to enter these techno campuses, vocational training institutes and private Universities.

With students from outside Colombo already showing such immense, hitherto untapped potential, bringing them into the modern digital world, we hope will change the face of Sri Lanka.
---
Add comment

Comments will be edited (grammar, spelling and slang) and authorized at the discretion of Daily Mirror online. The website also has the right not to publish selected comments.

---