---

In a recent interview, popular cricketing personality and Matara SLFP organiser Sanath Jayasuriya expressed his views regarding Minster Mervyn Silva's son Malaka's decision to make his political debut from the Matara district. The following is Malaka Silva's reply to some of the comments made by Mr. Jayasuirya.




You are hoping to enter the political arena from the Matara district. What are the latest developments with regard to that decision?
Well, I can say I am receiving a very positive response from the public about that. I get lots of encouragement via phone calls and discussions with the ordinary citizens.


What about the response from the President and the government?
They have not criticized my decision. The first service I did to the people of the Matara district was to hold a dansala. I did not jump into an election. A lot of people discussed this and there were various opinions. Most of them came to the conclusion that I must be getting ready for an election and they expressed their approval.



How can you say that the public approved your decision? People's approval can only be determined during an election.
That is true. But I can feel what they are thinking. They call me, they send me messages, they send me emails and in various ways they have voiced that they are happy about my decision.



But, there has been some discontentment about you coming to Matara.
Only one person has opposed my coming to Matara.



And who is that?
That is Deputy Minister Sanath Jayasuriya.



Mr. Jayasuriya said that you and he are poles apart – that you two are like the sky and the ground. Where do you stand? The sky or the ground?
Matara people have told me that Sanath Jaysuriya has his head in the clouds. But I am of course someone who is more grounded. I can coexist with anybody at any level.

I was never elevated to the sky. Politicians who live in the sky will one day realize that they are too high above the ground. When people give their verdict, they will finally understand their folly.

Just talk to the people of the Matara district, they will tell you who stands where.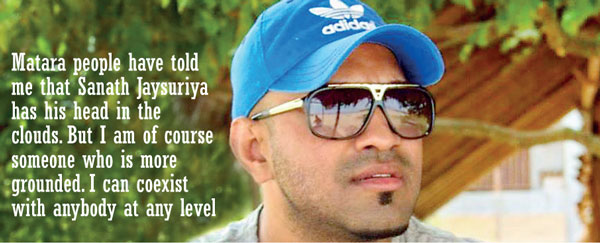 Mr. Jayasuriya also stated that he won't let anyone bring terror and violence to the Matara district. Do you think that terror will follow you to Matara?
What is terror? Is it going to a nightclub 'terror'? Is it having a problem with someone else? I don't understand. I am entering Matara peacefully. I am not someone who goes backwards.




What do you mean?
Well, I am not someone who will back down when faced with a challenge.

I am just like the other young guys. The only difference is that I am Minster Mervyn Silva's son. Even the smallest thing I do is bloated up into a big incident.
Even the media makes a big deal about every little thing. What can I do? Must be the fault of my stars.



Mr. Jayasuriya has also said that you can't bury your past mistakes. What have you got to say about that?
Well, I admit that I might have made small mistakes. I am also human, I am not completely flawless. I have done things that normal youngsters do. However, I have not committed serious crimes. I have not raped, I have not sold drugs.

Those who say these things are trying to sling mud at me and I cannot help that.

Even Buddha faced so many false accusations but he did not get affected by them. I am just a regular guy. People use various ways of slinging mud at me. They use social media such as Facebook to deface my character. However, those who know me know who I really am. One day, the mud slinging will stop and people will realize my true character.



Is there any bad blood between you and Mr. Jayasuriya?
There is no issue as such. I respect Deputy Minister Sanath Jayasuriya. I have not entered the political arena yet and he is someone who is already in the field. He is someone who is more knowledgeable and more experienced than me. However, I was born into a political family unlike him. He was a cricketer. He did not grow up in a political environment since his young days.




Do you think that Sanath Jayasuriya should have stuck to cricket and kept away from politics?
Yes, I truly believe so.



What do Matara people say about Mr. Jayasuirya?
Well, it is not very ethical for me to repeat what people say about him. Just because a dog bites me, I am not going to bite the dog back. So I don't want to criticize him. And these days he is suffering from a cardiac problem as well. I don't know if this heart attack was brought on because he panicked when he heard about my coming to Matara. Since he is not very healthy these days, I don't want to stress him out even more.



Have you met Mr. Jayasuriya?
Yes, I have met him in nightclubs. He is a minister and he patronises nightclubs. At least, I am not a minister.
Are the two of you friends?
We are not exactly friends but we talk when we see each other. He also has a restaurant.



Mr. Jayasuirya has said that he is not ready to do politics if an outsider comes to Matara.
Well, that means he cannot face a challenge. He is already afraid. That is a weakness. If you are politician, you should be ready to face any challenge. This is what happens when you are a just a namesake politician. How can he face the opposition if that is his attitude?




Are you saying that you can do more for Matara than Mr. Jayasuirya?
I don't know what he has done for Matara. I will do whatever I can do for the people of the district. I have relatives and friends in Matara. I love the people of the Matara district.



Do you think Sanath Jayasuriya is a challenge to you?
No way! We can see when the elections come.



Do you think you can do more for the people of Matara than the politicians who are representing the district?
I highly respect the senior ministers in the area. They all came to my dansala. Only Mr. Jayasuirya did not come. They came and spoke to me and wished me all the best.



But you did not answer my question. I asked whether you can do more than what they have done.
I am not saying they have not done anything; they have. But I will always strive to do something better.




Is there anyone else who is opposed your coming to Matara?
Not that I know of.



Who blessed your decision to come to Matara?
I don't want to name anyone but my father said that many in parliament sent their blessings.



There seems to be some in your own party who are pulling your leg?
I think the only person who is doing that is Sanath Jayasuirya.




What will you say to Mr. Jayasuriya if you happen to meet him?
I will tell him that we don't need to be against each other. We are both in the same party. We can work together. We both have to work under the directions of President Mahinda Rajapaksa. So I will tell him that we can work together in harmony.



Does the opposition pose a challenge for you?
No, no one has said anything against me. Only one person is opposed to me; everyone else is happy about my decision.




You said you are a changed person now. Does that still stand true now?
Of course. Everyone can see that now. I have not got caught in any scandal. I am not a saint. If there is a problem, I will face that. I am not scared of anyone. I am ready to face anything and everything that come my way.




You are not scared because your father is a Minster?
No! I have thrown punches and I have got punched as well.




Do you still go clubbing?
If Sanath Jayasuriya – being a Deputy Minister – can go clubbing, what is the harm in my doing so? I am not even a politician yet. It is true that I am a changed person. But I can go clubbing if I want to because I am not involved in politics yet.




There were allegations that you were distributing the Ecstasy drug. Is there any truth to this?
If someone is rich and has money, people say he is a drug dealer. I have heard about the Ecstasy drug but I have never distributed it. I don't even know about such a thing. However, I do have a drink or two at parties.




Are you a person who is suitable to enter politics?
I need the blessing of the President for that. He is my second father. He has always told me to enter the political arena.




What kind of relationship do you have with Namal Rajapaksa?
I meet him at parties and functions. I have no issues with him. He is the President's son and we are friends. He is a very nice and friendly gentleman.




What are your final thoughts about the comments made by Sanath Jayasuria about you?
"If people criticize you, hurt you or shout at you, don't be bothered. Just remember, in every game the audience makes the biggest noise, not the players." This is what I have to say.