---

t is highly fashionable to talk about sustainable development today. But much of what happens in the name of development amounts to increasing exploitation of non-renewable resources. In a way, this is understandable. We need water, land, minerals, etc. to produce commodities. We also talk about economic prosperity as a legitimate goal to be achieved by the countries in the developing world. This often means mass production and consumption of goods and services. When all these things happen, it is difficult to imagine how the natural environment can be preserved, non-renewable resources conserved and environmental pollution averted, unless we come up with a different development model. Then comes the issue of quality of life; how can the quality of life of the masses be improved in a fast moving socio-economic environment created by rapid urbanization, hyper mobility of people and growing social and spatial disparities? The spread of non-communicable diseases in such an environment coupled with increasing substance abuse, accidents, crime, etc. lowers the quality of life for many people, in particular, the disadvantaged sections of the population. There is almost no need to mention the negative impact on quality of life of increasing environmental pollution caused by increasing toxic and other wastes generated by an affluent life style mostly based on private consumption.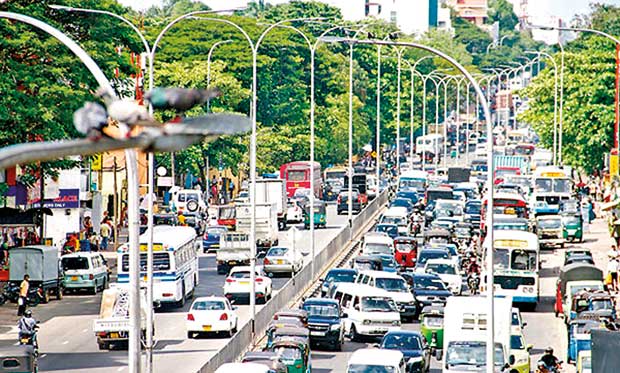 What is outlined above shows how difficult it is to balance development with environmental protection and quality of life. In a liberal economic environment, private investors often drive the development process and it is natural for them to look for more and more profitable investments, be it in manufacturing, construction, real estate development or in tourism. There are not many countries in the world that strive to find an alternative model of development, a notable exception being Bhutan. Sri Lanka is not an exception in the above regard. Faced with a socio-economic crisis characterized by massive public debts, growing income disparities and increasing expectations of a vast low income population, the present leaders of the country are looking for ways to get out of the present social and economic mess brought about by a long period of conflict and a decade of poor governance.



The economic base of the country is weak. In the absence of a strong industrial base coupled with a weak and stagnant agricultural sector, more and more people have come to depend on an ever expanding service sector which is heavily dependent on imports for its sustenance and growth. Inflationary pressures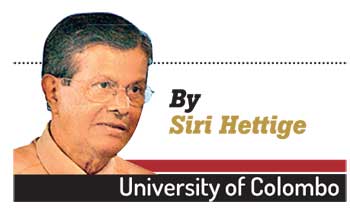 generated partly by the service sector and partly by a vast, largely unproductive state sector, have continued to push the wages and prices up, making life difficult for low income people encouraging them to look for foreign employment. Overseas employment itself has become a source of inflationary pressure as much of the remittances sent by workers fuel consumption of goods and services. In the absence of attractive industrial or agricultural employment, most of the unskilled workers have moved into the informal sector in urban areas. So, unless new, regular employment opportunities are created in the productive sectors, the present economic and social trends are more than likely to persist with their adverse consequences.


"As is well known, the rapid expansion of private transport in many countries often at the expense of public transport has in fact slowed down traffic leading to many adverse consequences, both socio-economic and environmental "



We are living in an increasingly inter-dependent world. It is natural for countries to engage in international trade in goods and services in the context of a global economy characterized by a high degree of division of labour and specialization. Yet, ecological imperatives force us to strike a balance between globalization and localization in both production and consumption. For instance, it is nonsensical for a family to travel ten thousand miles across the world to have a short holiday. Similarly, a country that can easily produce much of its staple food needs cannot justify importing the same food from countries that are thousands of miles away. Similar observations can be made with respect to many other areas of production and consumption. But the main point that needs emphasis here is that it is human needs much more than human greed that should guide human endeavours.



Another significant trend in global development in recent years is the increasing dominance of private consumption even in areas where public consumption can easily and more efficiently fulfill people's needs. In this regard, public transport is a clear case in point. The same is also true for many other areas such as health, education and social security.
As is well known, the rapid expansion of private transport in many countries often at the expense of public transport has in fact slowed down traffic leading to many adverse consequences, both socio-economic and environmental. As a result, private transport in the final analysis has not enhanced the quality of life of most people. Yet, it is not possible in a liberal economic environment to cut back private transport to accommodate public transport. This is clearly evident from the present emphasis on road development as a solution to traffic congestion in Sri Lanka. In the area of health, escalating private healthcare costs have made life miserable for many low income people. Increasing costs of private education, health and other services have compelled many middle class people to rely on various forms of rent seeking to earn money. Such rent seeking behaviour is a means to an end for those who wield power, influence and authority but is often an agonizing experience for the hapless masses.



It is possible to reverse within a few years some of the negative trends in development, transport, health, education, etc. But, to do this, we need to revisit the present development paradigm. This could perhaps be done in the context of the new SDG framework put forward by the Unite Nations. We need to initiate that discourse in this country without delay.