---
Since independence, Sri Lanka has never planned for a long term. In that pervasive sense of short-termism, garbage was the least of the problems, as long as it could be dumped somewhere. One of those mammoth garbage mountains collapsed on the Avurudu eve burying an unknown number of residents and 150 houses in Meethotamulla. As of Sunday, death toll stood at 26 including seven children and many more remained unaccounted for. Anger was boiling over in the grief stricken area and angry villagers have chased away politicians who visited the disaster site. Hope for survivors were fading away as search and rescue efforts dragged on for the third day.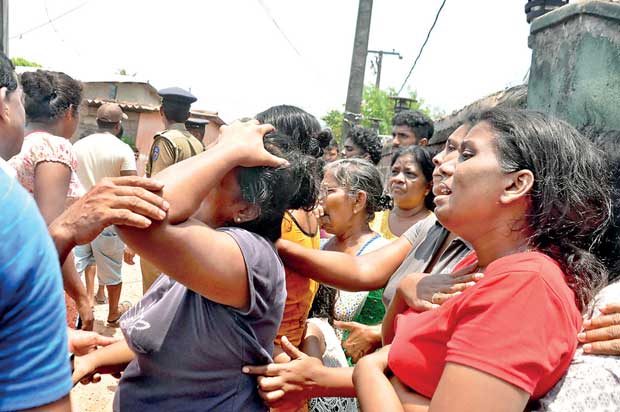 Meethotamulla tragedy is a callous reminder of pitiful state of affairs in this country: absence of any long term planning and governance bereft of any sense of coordination between multiple agencies and institutions, of which rigidity of laws only match their overall incompetence.

The Colombo Municipal Council had been dumping garbage in a plot of land in Bloemendhal until 2009 when a fire broke out in the site. After a sustained public campaign, the court ordered the CMC to find an alternative site, thus CMC begandumping garbage in Meethotamulla, a site earlier used for garbage disposal by the Kolonnawa urban council.

During the next seven years, a landfill, which began in an allotted two acre plot of land in Meethotamulla grew into a 300- foot mountain of rubbish spread in 16 acres as CMC kept piling 800 tons of solid waste every day. Last year, again after a public campaign by the residents in the area, the CMC informed the Court, that it would cease to dump garbage in the Meethotamulla site. The next destination was to be somewhere in Ekala, however, due to local protests it was abandoned. Another plan to dump garbage in abandoned lime stone quarries in Puttalam did not materialize due to opposition by environmentalists who argued that the proposed site was located within a one mile buffer zone ofthe Wilpattu wildlife park.

The preferred strategy of the government had been to move from one place to another, dumping garbage until residents fed up withthe stink and polluted wells rise up. That is a pretty lowly way of managing complex problems, even when Sri Lanka's solid waste output is minuscule in any global comparison. Large global cities produce more waste per day than Sri Lanka produces annually and recycle the lion share of it. It is commonly argued ( even without trying it) that Sri Lanka cannot recycle its solid waste since the public lump all garbage together. The solution then is to have an enforceable mechanism backed by legally enforceable sanctions that compel city folks to separate biodegradable waste from others like their peers in many other countries do. That lack of initiative in its decision makers is a quintessential Sri Lankan problem too.

Why we cannot plan for a long term on most things, let alone garbage, is a reflection of our institutions and individuals who oversee them. Over a hundred proposals by local and foreign investors on a sustainable solution for the garbage problem in Colombo had been presented to the government during the past two and half years. None had been followed up with a sense of urgency. Proposals for power generation from the Meethotamulla site was mooted, and then abandoned as feuding government institutions advancing their own agendas preferred to clash atop a mountain of rubbish, rather than cooperating to solve the problem. Sri Lanka's state agencies and institutions are

horribly under-performing and hide behind a labyrinth of achaic laws and regulations. They make any simple thing excruciatingly difficult, rob any initiative of its momentum and chase away willing investors. Their inefficiency at times leads to unintended mass murders like the one in Meethotamulla. Even when their inefficiency is not manifest in its gory detail, those institutions reign over a state of under-performance at the expense of our future. The government needs to cut those under-performing, yet all powerful institutions down to size, thereby simplifying the process of governance. When every state institution, be it Central Environment Authorities, large State Owned Enterprises, line ministries, provincial councils and many others could override a national plan, there is neither cohesion nor predictability in affairs of governance. What the countries at our development level and size need is a strong centralized state that can efficiently advance a national agenda irrespective of peripheral concerns. That is exactly why prospective investors flock to states with strong centralized governments or in many cases to ones with leaders who tend to centralize power --though such a concentration of power may not always be good for the health of democracy in the long term. However indecisiveness and vacillation are equally dangerous and make people become nostalgic about strong leaders.

Prime Minister Ranil Wickremesinghe has reportedly cut short his official visit to Vietnam and is returning home. One would however doubt whether he would dare to visit the crash site or even if he did so, whether people receive him amicably. The Meethotamulla rubbish dump was not his own creation, his government inherited it from its predecessor. But now in the eyes of the aggrieved locals, Mr. Wickremesinghe represents a government that is inefficient and callous to their grievances.

Last week's tragedy is another reminder that this government should inject a degree of efficiency and a sense of urgency to address our economic and social problems and to that end, reform institutions and laws that stand on the way of progress.
Follow RangaJayasuriya on RangaJayasuriya on Twitter