---
The old trees in Colombo, especially those in the Colombo 7 and Colombo 3 areas, have been adding to the city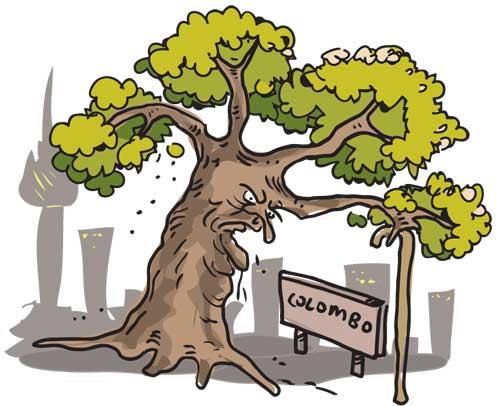 beauty for decades. Among them, the exotic banyan trees have helped make Colombo roads greener and cooler.
With its big roots falling from lower branches banyan trees have been offering shelter from blazing sun and torrents of rain. With its white bark contrasted with dark green foliage, it stands out among others. The banyan trees have also been very much part of the university and art
culture of Colombo.

Unfortunately, most of the big trees in the city are fairly old today. A few are about to fall with cracked up trunks and weakened roots. The trees along the Nelum Pokuna Road up to Flower Road, Bauddhaloka Mawatha and Munidasa Kumaratunga Mawatha are among those appear the most vulnerable.
The old trees in the city had fallen at regular intervals during stormy weather causing damage to vehicles and property. However, it seems no action has been taken by the municipal authorities to stop further damage. Surely the Colombo Municipal Council (CMC) can install some wooden tree supports to the weakened trees.
If CMC needs it can seek assistance from a country like Japan, which is known for its artistic wooden tree supports in Zen gardens and parks. These supports look as if they are very much part of the tree that they support.
One sincerely hopes that nobody would suggest uprooting the trees as a solution to the danger posed by them.
After all, with the right support systems, these trees can live longer. They are almost irreplaceable as it takes decades for a banyan tree or any other tree to grow up to giant size.

Most of these big trees have reportedly been planted before Independence of Sri Lanka. Although random tree planting campaigns have been carried out from time to time later no systematic plan had been there in the past few decades to make Colombo greener.
Instead, consecutive governments have been doling out government lands in and around Colombo to real estate companies to build apartment complexes. This move created a number of heat islands in the city besides giving Colombo the look of a concrete jungle.
With heatwaves sweeping the country at regular intervals the authorities are now realising the need for more trees and green patches, especially in the cities.

What they have missed with the sale of government land were opportunities to create mini-forests in cities like Colombo. Even India, the middle-east, Europe and Latin America are busy planning city forests to fight the heat.
We still have a few government land plots left in Colombo mostly coming under the Urban Development Authority (UDA) and Railway Department.
It is still not too late if the government opts to grow mini-forests in these plots instead of selling them to private parties.
This way the government will be making a small contribution to the global fight against climate change as well.