---
A true Buddha puthra with an iron will is Ven. Kirama Wimalajothi Thera. He is an epitome of Lord Buddha's teaching that the greatest daana ever is Dharma daana. The Buddhist Cultural Centre he initiated in Nedimala as a facilitator to Buddhist literature at a time when publications were scarce in the country personifies this. Setting up the iconic Sri Sambuddhathwa Jayanthi Mandiraya in Thummulla -- against all odds -- commemorated the 2600 years of Sri Sambuddhathwa Jayanthi in 2011, he further proved his mettle by gifting an oasis of Dhamma to all Buddhists in the country and worldwide. In a candid interview with the Daily Mirror, this globally exposed Buddhist scholar who walked the talk elucidates on what ails sasana and urges for a collective will, putting aside political biases.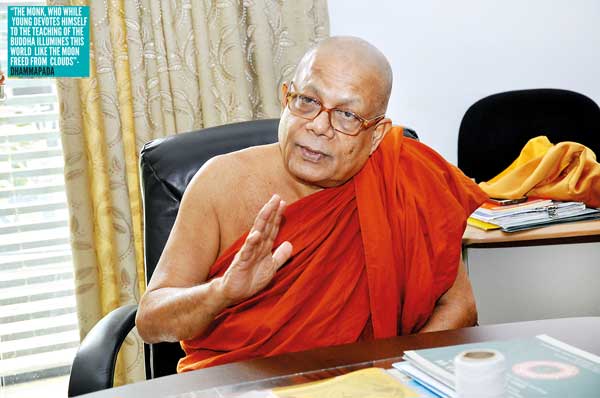 Q You have been an Upasampada Bhikku for 50 years and today what are your reflections on those eventful years?
I was gifted to the Sasana at the age of 13, in 1960, and my guru was Ven. Sri Rewatha Thera who was the chief incumbent of the Poorwaramaya of Weherahena in Matara. He taught me Sinhala and Pali apart from bana-daham and later on I pursued my higher studies at Manthinda Pirivena in Matara. In 1966, I received upasampada and actively involved myself in community service even as a young priest and also focused largely on promoting educational and employment opportunities for the youth.

When the 1971 youth insurgency broke out, I became very frustrated. So many young monks were lost not only to the sasana, but to their families and the entire country. Some de-robed and others lost their lives. The frustration was such I was on the brink of re-robing myself when I left for Thailand in 1974. I soon realized that their Buddhist customs and attitudes of the monks over there were confined to a narrow framework and with no clear objective. So I left for Malaysia. This move was a turning point in my priesthood. I came under the wings of Ven. (Dr.) Kirinde Dhammananda Thera whom I consider a living university! Such was his foresight and wisdom. Throughout the 13 years I spent in Malaysia, I worked tirelessly from 5.00 am to 10.00 pm each day for the betterment of youth, Dhamma schools etc. I had the opportunity to mingle with Chinese people who were hard working. This exposure instilled in me the value of sincerity and committed myself to work that would reward you in the end.

When I look back, I feel that the global exposure I received as a Buddhist missionary shaped me into what I am today -- the sense of 'us' instead of 'me' which is strongly advocated in these countries helped me do things in a different way. I also spent a few years in Singapore and then moved to the US where I got the citizenship as well.

Q How do you perceive the Buddhist monk of the era when you entered the Sasana and that of today?
It is disheartening that today the Sasana does not have many Buddhist monks. There is no leadership in them. We don't find panditha hamuduruwos of yesteryear who were conversant not only in Dhamma and languages but also in management, leadership and counselling. We do not see fully-fledged disciples of Buddha today. Even the Nayaka Theras remain silent on evils which had befallen sasana. I first blame the founders of the JVP for this erosion in sasana and I don't hesitate to say that they were the first to have propagated the seeds of polluted mindsets in young monks who could have otherwise gone a long way and contributed to this country. We lost many creative-minded young monks with enormous potential as a result. This is the liberation or the so-called vimukthi they sought.

During the second JVP insurgency in the late 80s, we sheltered many such young monks in Malaysia who fortunately freed themselves of the manacles of the movement. It takes a mother 20 years to raise a child and integrate into society. But it takes just two hours for these evil forces to ruin them forever. This was clearly manifested by the deeds of this movement. They did not spare even the Buddhist Shrawaka Dharma Faculty in Anuradhapura and later the Buddhist and Pali University. The germs of extreme politics they spread within the sasana keeps on tainting it to date just like the entire State university system in this country they ruined.

Q What do you consider to be the most self-satisfactory social labour of yours?
It is undoubtedly the revival of Buddhist literature which was facilitated through the Buddhist Cultural Centre in Nedimala which I established in 1992. When I returned from Malaysia I was disheartened to find the lack of Buddhist publications in the country -- both in Sinhala and English. I travelled extensively both locally and abroad in search of these publications. I stored all of them in a small room in the Cultural Centre and also I installed a printing press there. By 1994, I succeeded in getting the Discourses of the Buddha translated into 13 volumes and printed in Sinhala. Aligned with the dictum of the Centre -- 'Buddhism from generation to generation' I was determined to promote Buddhist knowledge among the students of the Dhamma and the laity. Through the Mobile Book Shop called Dharmayathra, I sought to make this literature accessible at rural level. In 2002, I got the new edition of the Buddha Jayanthi Thripitaka reprinted and in 2004 for the first time Pali atuwa (Commentaries) were translated into Sinhala and printed for the benefit of all.

It was a gruelling task and I did not seek any profits out of this labour of love. Fortunately, I had funds with me thanks to the donations made by devotees when I was in Malaysia and in the USA. The pinnacle of my success was establishing the Sri Sambuddhathwa Jayanthi Mandiraya to commemorate the 2600 years of Sri Sambuddhathwa Jayanthi in 2011, which I did single-handedly with my funds and of some more philanthropists. No State patronage was extended to me to set up this establishment which every Buddhist in this country can be proud of today. I had to raise a massive loan which I still repay but the immense self-satisfaction I derive by bringing Buddhist canon close to people is enormous. Today this is a one-stop-shop for all religious needs of Buddhists from all over the world.

Q You were instrumental in steering Bodu Bala Sena (BBS) which you later quit. What was the reason for this?
Setting up this movement was a necessity to salvage Buddhism from those who exploited it to fulfil their personal agendas. I was informed of bogus monks who used to go from house to house begging for donations. When a group of monks invited me to give BBS leadership, I accepted because I wanted to rid the sasana of these racketeers, some of whom were underworld thugs disguised as monks.
BBS was set up as a response to legitimate grievances of Buddhists in this country including monks who felt there was no leadership to guide them. The original objective of it was not to engage in extremist activities or to become a political trumpet but to become a voice for the arajika (normless) state the sasana has fallen into. Yet it took a different path which I had no intention of championing, hence I quit it because I had no desire to become a parliamentarian in robes!

Q Lord Buddha preached that a monk should not frequent places which disrespected the robe. Do you believe that some of the Buddhist monks are contradicting this teaching in a big way by turning out to be politicians?
Indeed they are! Today some of them are frequenting the so-called Parliament which has the least respect for the robe! Buddhist monks have played a pivotal role in governance from the time of Lord Buddha by mentoring the rulers, not by becoming rulers themselves. They showed the path for good governance which Lord Buddha advocated thousands of years ago while upholding the dignity of the robe. Today they have become politicized to the extent of promoting certain individuals to get ministerial portfolios!

Q What are your comments about the Bhikku Kathikawatha?
I don't believe that such Kathikawatha could bridge the rifts within the Sasana. The need of the hour is unity within sasana. We cannot afford to say that Theravada school is united. There are so many differences coloured by party politics. As I said before, today we do not have Buddhist leaders with a spine, we do not have revolutionaries for a good cause. So many rural temples are crumbling down with no monks to maintain them.
I strongly believe in reviving the Sangaraja concept and bringing all Chapters under his purview. But this post too should not be a life-long one, every five years or so, a new Sangaraja should be appointed. A Buddhist Advisory Council should also be in place. This Council should be of teeth with individuals of integrity drawn from the clergy and educated laity which could address the challenges of modern times such as enhancing the education of the monks, addressing threats to sasana and religion etc.

Q What should be the role of a Buddhist monk in a multi-religious society such as ours?
His role is to set an example of a true Buddha puthra by cultivating empathy towards all communities. They should encourage healthy inter-religious dialogues. At the Sri Sambuddhathwa Jayanthi Mandiraya we organize many such programmes. Why did Lord Buddha establish siwuwanak pirisa? (bhikku-bhikkuni;upasaka-upasika) It is to become agents of Dhamma in society. Lord Buddha's compassion extended to the destitute such as Suneetha and Sopaka. But sadly we do not see such empathy from many of Buddha's disciples today. Instead we see them nurturing racism and political biases.

Q How important is it to promote Buddhist ambassadors?
The need for such ambassadors is overwhelming. I myself receive so many invitations per year which I simply cannot oblige. To meet this international demand, we do not have the supply. The journey a monk can go is so long for which a collective mindset is required. There are no training institutes for the monks to reach the global platform, especially no training in the English language. In my personal capacity, I have laboured to impart such knowledge but a collective state will is nowhere in sight still.

Q Do you see a positive trend among the Buddhist youth of present day?
Yes, indeed it is very heartening. I see a lot of enthusiasm among the youth to engage in meditation, Buddhist discussions etc. It is a sign of hope that there is a cross segment which will not go with the bandwagon and has potential for tomorrow's leadership.

Q Finally, how would you define the true Buddhist way of living?
It is essentially simple and contented living. Buddhism offers an answer to every aspect of life including a happy marriage. Today we see broken families because there is no understanding in a marriage, there is no quality family get-together which is invaded by social media and other devices. People are so competitive and over ambitious. There is nothing called 'mine' not even your own body. We have no control over it. If we can control it, we will be free from diseases which take refuge in it. If people realize the transitional nature of life and live it in a simple way with less thanha (cravings) it is the true Buddhist way of living.
Pix by Waruna Wanniarachchi