---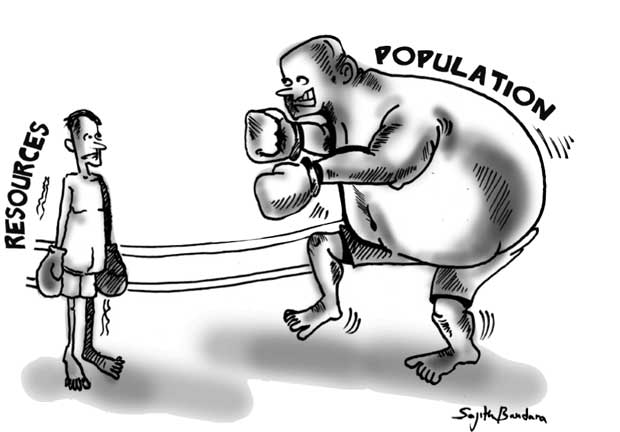 Tuesday, July 11 is the United Nations World Population Day which seeks to focus attention on the urgency and importance of population issues. The day was officially proclaimed by the then-Governing Council of the United Nations Development Programme in 1989, an outgrowth of the interest when the world population reached five billion, on July 11, 1987.

According to the UN, around 225 million women who want to avoid pregnancy are not using safe and effective family planning methods, for reasons ranging from lack of access to information or services to lack of support from their partners or communities. Most of these women with an unmet demand for contraceptives live in 69 of the poorest countries.

The UN says, access to safe, voluntary family planning is a human right. It is also central to gender equality and women's empowerment and is a key factor in reducing poverty. Investments in making family planning available also yields economic and other gains that can propel development.

This year's World Population Day coincides with the Family Planning Summit, which aims to expand access to voluntary family planning to 120 million additional women by 2020, the UN says.

According to a world populations website with the dawn of the agriculture era about 8000 B.C., the world population was about five million. Over the 8,000-year period up to 1 A.D. it grew to 200 million though some estimates put it at 300 million or even 600 million, suggesting how imprecise population estimates of early historical periods can be with a growth rate less than 0.05% a year. During the 20th century alone, the world population has grown from 1.65 billion to six billion. In 1970, there were roughly half as many people in the world as there are now. Because of declining growth rates, it will now take more than 200 years to double again.

This year, the world population has reached 7,515,284,153. This month, the world population was estimated at around 7.5 billion. The UN projects that the world population will reach 10 billion by 2056.
According to a recent study based on the 2010 world population of 6.9 billion, there were 2,173,180,000 Christians or 31% of the world's population. Some 50% were Catholic, 37% Protestant, 12% Orthodox, and 1% other. There were some 1,598,510,000 Muslims (23%), of whom 87-90% were Sunnis, 10-13% Shia. Some 16% had no religious affiliations while there were 1,033,080,000 Hindus (15%), the overwhelming majority (94%) of whom lived in India. There were 487,540,000 Buddhists (7%), of whom half lived in China. According to a world population research centre, the religious profile of the world is rapidly changing, driven primarily by differences in fertility rates and the size of youth populations among the world's major religions, as well and by people switching faiths. Over the next four decades, Christians will remain the largest religious group, but Islam will grow faster than any other major religion.

If current trends continue, by 2050, the number of Muslims will nearly equal the number of Christians around the world.

Atheists, agnostics and other people who do not affiliate with any religion – though increasing in countries such as the United States and France – will make up a declining share of the world's total population. The global Buddhist population will be about the same size it was in 2010, while the Hindu and Jewish populations will be larger than they are today.

India will retain a Hindu majority but also will have the largest Muslim population of any country in the world, surpassing Indonesia. By yesterday, the population of Sri Lanka was 20,906,672, based on the latest United Nations estimates.

India is expected to become the largest country in population size, surpassing China by 2022, while Nigeria could surpass the United States by 2050. This years' UN theme is "Family Planning: Empowering People and Developing Nations." We also need to remember the wisdom of Mahatma Gandhi who said, the world has more than enough to meet every persons' need, but not the greed of some people in the context where nine of the world's super billionaires have more wealth than 50% of the worlds' population.