---
This 'right of reply' is sent with regard to the article published on July 30, 2020, entitled 'An unusual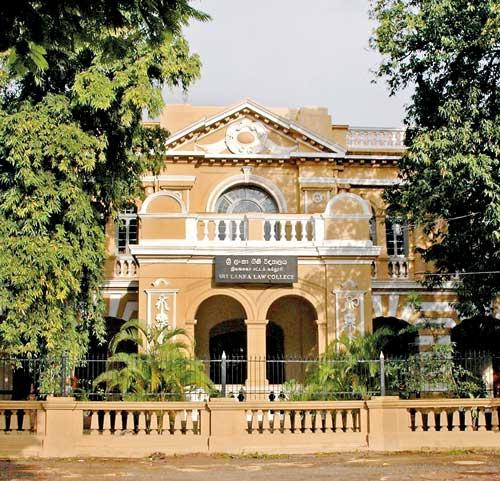 Sri Lanka law College
increase in students belonging to one community at Law College in 2012: PCoI reports'.
While recognising that the views expressed in the article do not necessarily represent those of the author, we are greatly concerned by the phrasing of this article. We would like to remind the Editorial Board of the Daily Mirror of its duty towards upholding unbiased journalism; especially when taking into consideration the racial strife in Sri Lanka and the significant, tangible impacts of race-baiting in the news. Though the views may have been those of the former SIS Director, we believe that the Editorial Board holds a responsibility to clarify the points of view provided, through the provision of alternate points of view or statements from lawyers or experts. As alternate points of view have not been included, nor any wider contextual background to the PCoI in question, the article reads as explicitly racist. It's important to consider the context within which this article was published, and in a society with rising Islamophobia, articles such as this can be easily used as justification for hatred.

Firstly, even if it is perceived that the story is merely a direct report of a Government official's views, the implicit message present in the writing is very clear. Phrases such as "This is one approach minorities can take" and "...that this was part of an attempt to invade key positions by the minorities" are inflammatory, and mimic rhetoric used worldwide by racist politicians. The underlying sentiment encourages readers to doubt the merit of, and assign political agendas to, the academic achievements of minorities. The message that minorities are not expected to be part of intellectual establishments in large numbers is clear, and though these are the views of the former SIS Director, the Daily Mirror must take responsibility for providing a far-reaching platform for those views.
Secondly, we question the rationale behind, and necessity of making this article headline news. By assigning such prominence to an article that questions the merit and intentions of Muslim students in Law College, the newspaper in turn validates these views. Moreover, the article also includes statements irrelevant to its overall point: specifically, a tenuous connection to the LTTE that evokes subtle ties to all Muslims and terrorism; and secondly, the final few sentences that bring up Halal certification which is unconnected to the subject matter of university entrances, but is a significant point of contention used to corral anti-Muslim sentiment). Such statements manage to conflate a number of communally divisive issues into one article and the consequences of this upon the opinions of your readers cannot be understated. Again, we believe there has been glaring, potentially harmful editorial oversight on this point.
"Such statements manage to conflate a number of communally divisive issues into one article and the consequences of this upon the opinions of your readers cannot be understated"
Thirdly, we see this article as particularly dangerous due to the historical precedent of such sentiment. The implementation of the 'policy of standardization' during the 1970s not only set the historical precedent of analysing the success of our educational institutions on the basis of the ethnic makeup of its student population, but also disadvantaged Tamil students in the university admission process. This form of rhetoric, which places greater emphasis on race as opposed to merit, can be seen in the article, and once again seeks to invalidate the achievements of a minority group. By presenting such blatantly racist views, without the opposition of differing perspectives, the Daily Mirror appears unfortunately complicit in establishing the existing narrative as unbiased and correct.

We believe that the Daily Mirror, and its parent company Wijeya Newspapers Ltd, are not organizations with intent to actively spread racist propaganda throughout the country. As patrons of the paper, we see that this may have been an error of editorial oversight, rather than an intentional attack aimed towards minorities. That being said, we do expect the paper to issue a clarification on this article, and condemn the racist insinuations within, possibly with input from unbiased experts. In times of rising anti-minority sentiment, journalism and information dissemination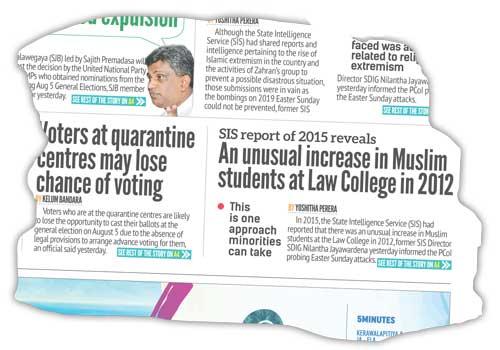 plays the most crucial role. Muslim students at Sri Lanka Law College deserve better, and minorities in Sri Lanka deserve better. We also ask for greater sensitivity and responsibility in future publishing, and hope that this misstep can be used as a catalyst for productive change within the paper's editorial standards.
Signatories:
Hayati Rassool, Githmi Rabel, Shanya Sadanandan, Nidula Samarakoon, Erandi de Silva, Aleena Cader, Taarshi de Silva Raghaven, Tehani Rassool, Dulani Hannadige, Oshadhi Jayaweera, Pravin Jayasundere, Maleeka Hassan, Shenali Perera, Shemali Jayasinghe, Dinuk De Silva, Dui Jasinghe, Dihanie Amarasinghe, Bilaal Marikar, Nelumi Ramanayake, Saheli Wikramanayake, Shenara Ambrose, Nishithe Welandawe, Heshanthi Munasinhe, Atarah Ratnavale, Nisandi Gammanpila, Yalinda de Almeida, Zainab Hamid, Rahul Rajaratnam, Chathuranga Dambagolla, Jethan Suthar, Viren Ratwatte, Amanah Faaiz, Mikhail Cader, Ashmitha Gunaratne, Saranie WijesingheWijesuriya, Ravin Karunarathna, Akhilendra Gunasekara, Shenalka Gunasekera, Clara Nithiaparan, Buthmee Fernando, Shihara Ferdinando, Haadiyah Marikar, Sanka de Sylva, Theruni Galagedara, Zaydhameed Fajurdeen, Keith Jayamanne, Clifford Fernando, Thurumi Ratnayake, Sanjuli Gunatillake Ekanayake, Shenaya Mendis, Vehara Abeygunawardene, Senuri Peiris, Vineshka Mendis, Denush Vidanapathirana, Dylan Chetan Perera, Sewwandi Perera, Saeli De Alwis, Amaya Fernando, Akanksha Hulangamuwa, Vijan Thaveesha, Aaqil Yoosuf, Garuka Sokman, Mehak Sangani, Sahlah Anees, Zamzam Ismail, Tiffahny Hoole, Dinuli Bulumulle, Dilendra Nilupuli Wijesekara, Mithuni Jayawardana, Vedeha Aluvihare, Dinith Senaratne, Chamika Perera, Mohammad Kaliq Nizamdeen, Sandeepthya Danush Ariyaratne, Ravija Malan Wijethunga, Shafni Wazil, Rustom Cader, Yohan Eran Fernando, Rajinda Gunasekara, Hasanga Liyanagunawardena, Malithsha Jayampathi Dissanayake, Adhil Shafi, Anan Manzil, Hasini Jayawardene, Anam Ismail, Anan Manzil, Sandun tharuka tennakoon, Mohamed Shafie Mohamed Salman, Thirandie Rivisandani Siriwardana, Kavishka lakindu jayasekara, S.P.N.V. Ilukkumbure, Redha Refai, Tasneem Azhar Moizally Tyebally Carimjee, Anam Ismail, Abdullah Buhary, Avishka Shiek, Joshua Perera, Abdur Rahman, C. R. Yogaratnam, Subhavi Perera, Gavesha Abisheka Pelawatta Hettige, Manuja Mallikarachchi, Tahani Amaya LenagalaDimuth Fernando, Janidu Rathnayaka, Kavindya Abeyratne, Shabnam Shammil, Najma Rizwan, Charm Charuka Peiris, Denver Shenal, Jayali Suhara Wellalage, Anjalee Ranasinghe, Thalha Saifdeen, Nandun Ekanayake, Damion De Motte, Maheli Sri Gintotage, Janani Abeywickrema, Yasas Pussewela, Mohamed Aathif, Abishek Ranatunga, Avishka Medawatte, Ammar Moujood, Shimal Oshan Fernando, Senuri Vidanapathirana, Malith Lakmal Mayadunne, Lukman Abdul Samadh, Abdul Hadi Mohamed Rizmeen, Dulinika Bulumulle, Nimesh Navoda Goonewardena, Theekshana Bandaranayake, Kerran Fernando, Nabeela Iqbal, Bryan Senaratne, Michelle Ronaly Kuruwitaarachchi, Lillemdra Alawattegama, Shihan Maharoof.