---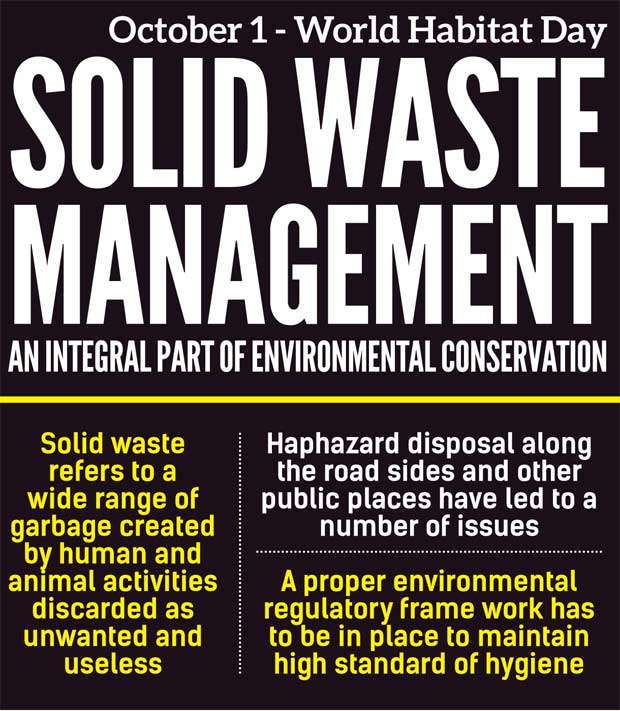 The World Habitat Day was declared by the United Nations General Assembly in the year 1985. The day dedicated was Monday October 1 every year. The theme of this year's World Habitat Day is "Municipal Solid Waste Management"
UN-Habitat has addressed a many policy issues like waste policy, technology, good and Bad practices, Management, financing and governance focused on the process of sustainability.

Municipal Solid Waste Management
What is solid waste? Solid waste refers to a wide range of garbage created by human and animal activities discarded as unwanted and useless. The main creators of solid waste are residential, industrial and Commercial activists in the given municipal areas.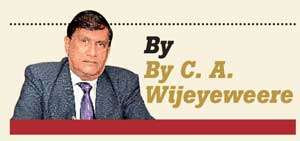 Warm and humid climate makes solid waste extremely putrid. The waste therefore has to be removed and disposed of quickly, efficiently, and safely before it gives rise to bad odour, infectious disease, and other public health hazards. The Ministry of Local Government should develop a comprehensive and reliable garbage -collection system for all municipal councils and the other local authority areas. A proper methodology has to be adopted to collect and dispose of garbage on daily basis to prevent problems associated with the decomposition of organic wastes.
Hundreds of tons of solid waste is disposed within Municipal areas every day. These wastes come from homes, offices, industries and various other agricultural activities and market places. If this solid waste is not properly collected, it can pollute the surroundings and it can seriously affect the health of human, domestic pets and our environment. The sources of solid waste can be classified as follows.
Residential – Garbage of the residences can be classified as food waste, plastics, paper, glass, leather, metal, garden waste, cardboard, batteries, old mattresses used oil cans, tyres, electronic items and discarded bulk households' items etc.

Commercial – can be referred to hotels, markets, restaurants, stores and office buildings. Solid waste generated from these places are food waste, paper, cardboard materials, glass, metal and other hazardous waste.

Construction and demolition waste - This include new construction sites, demolished sites, building renovation sites, road construction sites. Solid waste produced in these sites are waste building materials, broken concrete, wood, rubber, plastics, glass, wire and dirt.

Municipal services - Solid waste generated by municipal services include dirt collected by street cleaning, landscaping, recreational areas, parks and beaches etc.

Biomedical Institutions – Hospital, Medical equipment and chemical manufacturing institutions. Hospitals produce syringes, bandages, used gloves, drugs, plastics, food waste and chemicals. In all these cases proper and scientific disposal has to be done, else they will cause a huge health problem to the neighbours and to the environment.

Solid Waste Management can be considered as a multidisciplinary effort associated with the control of its generation, storage, collection, transport/ transfer, processing and disposal of the solid waste materials to safeguard a range of issues like public health, environmental and aesthetic value of the area. In addition, solid waste framework needs to include proper planning administration, financial and legal functions.
The collection and disposal of municipal solid waste has become a widely discussed issue among the public, local politicians, and planners, particularly in the urban areas. Haphazard disposal along the road sides and other public places have led to a number of problems such as, environmental pollution, water contamination, and increase in epidemic diseases.
Dumping of waste materials in this manner make biodegradable materials to rot and decompose under unhygienic and uncontrolled conditions. After a few days of decomposition, the decomposed material emanates foul smell and become a breeding ground for different types of diseases causing insects and other infectious organisms. This spoils the aesthetic value and the land values in the area. Solid waste from industries are a source of toxic metals and hazardous wastes and chemicals that may be injurious to human life and the soil. This may affect or can alter the productivity of the soil in the particular area. Toxic chemical can seep in to the soil and pollute the ground water. Hence it is obvious that the financial viability of waste management systems are more complicated than that of a commercial enterprise.
The administrations of non-hazardous waste in urban areas is a bounden duty and the job of Local Government authorities. The Management and administration of hazardous waste material is the job of the generator subject to local and National Laws and regulations prevailing in such areas.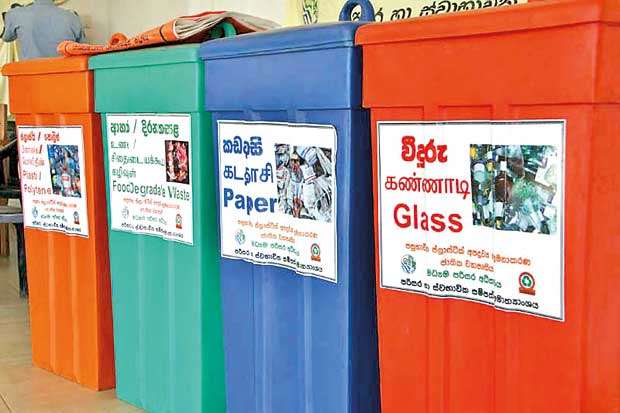 Rapidly increasing urbanization and economic development is one reason to accumulate heaps of municipal solid waste. Most of the municipal councils still try to meet the challenge of preventing environmental degradation due to unsystematic solid-waste management. Open burning of solid waste, becomes a health hazard that needs to be addressed. Solid-waste management has become an important issue in all the municipal and other local authority areas of Sri Lanka. It needs to be resolved through an integrated community, private and industrial sector, with policy-based approach adapted by the Ministry of Local Government, with regard to all local authorities.
Provisions in the National Environmental Act and their amendments and special regulations made by the minister of Environmental and Natural Resources especially refer to municipal solid waste. Municipal council ordinances and by - laws relating to Solid Waste Management are enacted for the inspection, supervision, segregation, storage, collection, discharge, transportation, processing, treatment and disposal of solid waste generated in private and public places. There are public health inspectors in the divisions to take legal action against illegal dumping and other violations. We do not know to what extent the prosecutions have been carried out against the violators of the Law.
The primary objective of solid waste management should be to minimize and to eliminate the adverse impacts of waste material on human- health and the environment. If this objective is realized it will finally lead to economic development and a better quality of life of those who live in the said local authority areas. It is the responsibility of municipal councils to improve the environment for the good of the community. The improper management of solid waste gives rise to problems of health, sanitation, and environmental degradation.
The following are a few methods of solid waste management.
Sanitary landfill – This is the most popular solid waste disposal method. Garbage is basically spread out in thin layers compressed and covered with soil.

Incineration - This method involves burning of solid waste under high temperature until the wastes are turned in to ashes. The good side of this method is that it reduces the volume of waste drastically.

Recycling – Identification of resources in the process of taking useful but discard items for the purpose of recycling.

Composting – only biodegradable materials are used in composting. Good quality, environment- friendly manure is formed from compost and can be used in agriculture.

A proper environmental regulatory framework has to be in place to maintain high standard of hygiene and measures to prevent and control air and water pollution, and to manage hazardous waste and municipal solid waste. Municipal councils need to balance environmental protection and economic development through collaborate relationship between the Central Environment Authority and the key economic development and promotional agencies within the municipal council areas.
A systematized solid waste management is an integral part of environmental conservation that should be observed by the individual members of the community, corporate members and the municipalities. This will keep the environment clean and reduce health and settlement issues.
The Ministry of Local Government has to develop a comprehensive garbage collection system islandwide and train the municipal and local authority officials by providing them with adequate training and infrastructure facilities to fine–tune the present systems adopted by the Municipal Councils.
Author is the Chairman, Condominium Management Authority.