---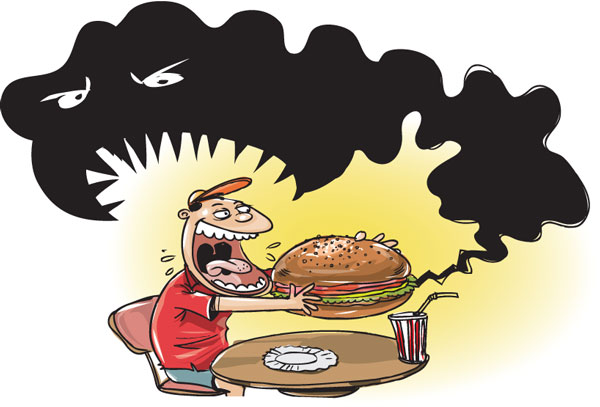 Sri Lanka today moves into the third day of the National Food Safety week, from August 22 to 29 and this gives plenty of food for thought not only for the health authorities but for all the people because the history or health science teaches us that more than eating well we need to eat wisely.

According to a Health Ministry statement, research has shown that in Sri Lanka most people don't eat enough vegetables and fruits though our paradise island is blessed with hundreds of nutritious varieties while some desert countries do not have even a single.

The Ministry says that while raids are being conducted to ensure hotels big or small sell food that is healthy and nourishing, the main challenge Sri Lanka faces in the health sector is the dangerously rapid increase in non-communicable diseases including diabetes, high cholesterol and various heart ailments -- known to be linked to the excessive intake of sugar and starch especially by people who are more than 40 years of age. Diabete, known as the silent killer has reached virtually epidemic proportions with about 30 per cent of Sri Lanka's people suffering from it in though in different degrees. The most disturbing reality here is that about 15 per cent of diabetes victims are schoolchildren largely because they are consuming excessive amounts of starch and sugar while in the elite sections children are known to brandish their smart phones to order hamburgers, doughnuts or hot-dogs during the short interval. People friendly nutritionists have been regularly telling us that the best and most nutritious breakfast for children would be gram, cowpea, green gram or other lentils.

Many parents would say they do not have the time to prepare such a breakfast in the morning rush to send the children to school in time. But that does not justify training the children to gobble some junk food which might make them unhealthy and therefore unproductive even before they reach middle age.

Yes, indeed as the ministry says, we need to eat more nutritious vegetables and fruits, specially the green leafy vegetables. But the central government and the provincial administration have a duty to make such vegetables and fruits available to the people at affordable prices. Over the past few days reports say vegetable and fruit prices have come down by more than 50 per cent because of a big harvest by cultivators. But most cultivators are complaining that because of inefficient marketing arrangements their vegetables and fruits are stuck at the main Dambulla wholesale market or elsewhere and are going to waste.

This is a field where the government, provincial and other local councils need to act urgently and effectively to set up marketing networks as efficiently as the private sector does. In addition the government needs to make arrangements for fruits and vegetables to be used for 'achcharu' or other preparations that could be bottled or canned and kept for a longer period.

The government and other research agencies have told us that most of the vegetables and fruits we eat are polluted or poisoned by the excessive use of imported agrochemicals some of which are toxic. We have also allowed transnational companies to cultivate and sell vegetables and fruits that come from genetically modified seeds. The fruits may be big but most food scientists tell us that the nutritious value of these fruits is reduced through the GM process and the side-effects they could have are still not known.

Since May last year the national government has launched a healthy programme for Sri Lanka to grow all the food we need including the vegetables and fruits in our country without importing junk foods and without using toxic imported agrochemicals. Led by the activist parliamentarian Ven. Athuraliye Rathana Thera the government has launched a programme to make Sri Lanka a 'Vasa Visa nethi' country by encouraging farmers to switch from agrochemicals to organic fertiliser including the inexpensive fertiliser made of cow dung. Some vested interests are trying to provoke the farmers to protest over the switch from agrochemicals to organic fertiliser. But the government and the media need to educate the farmers -- not only during this food week but also in the weeks and months to come that Sri Lanka was once Asia's rice bowl long before transnational chemical corporations began their neo-colonial operations.