---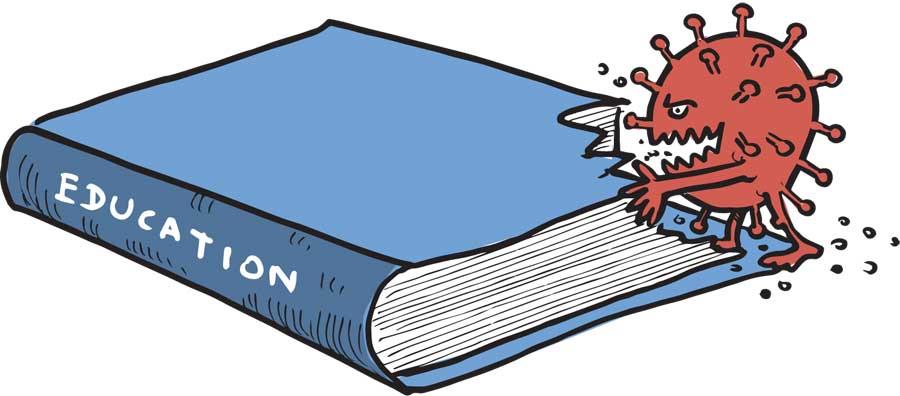 Parents would be anxious when their children return to school following the resumption of classroom sessions in the near future. Education Minister Dulles Alahapperuma has said that classroom sessions will be held seven days a week once schools reopen.
Next to the health concerns what troubles parents and their children is whether syllabuses would be covered for those sitting for the Advanced Level and Ordinary Level Examinations this year.
For the record children had lost 276 school hours by May 12 (Tuesday) due to the lockdown situation.
The Government came up with promising education programmes on state television, some programmes starting as early as 5 am.

Students responded positively to this new method of learning from home using electronic media. Tuition classes have taken this method of learning a step further and sent tutorials via WhatsApp and Viber.
It would not be easy for children to maintain social distancing. Their nature is to make friends, share food and play games during intervals at school. All these habits may have to be curtailed due to the new health guidelines spelled out to combat COVID-19.

The World Health Organization (WHO) recommends strict guidelines for students, teachers and academic staffers to follow after schools are reopened when this pandemic is somewhat controlled. Some of the guidelines which are extremely essential and worth mentioning here are; sick students, teachers and academic staffers must refrain from attending school, schools must enforce regular washing of hands, academic institutes must have a solid mechanism for waste management, promote social distancing, clean and disinfect the school building and cancel assembly and all sports activities.

As much as education is so important we must remind ourselves of that old adage 'health is wealth'.
Whether we wish to admit it or not the lessons learned in a classroom inside the school has special value. Single children can observe how other students might be finishing these assignments in double quick time; sometimes a little comparison and healthy competition can raise the bar for an individual. This is not possible when studying alone in front of the screen of the computer or the television.

Just the other day the Governor of the Sabaragamuwa Province Tikiri Kobbekaduwa had revealed at a education seminar that 161,390 out of a total of 400,000 students from the Ratnapura and Kegalle Districts didn't have access to T.V, radio, internet and telephones. Hence attempts made to bring education to the doorstep of such children using distance learning methods might be futile.
Governor Kobbekaduwa had stressed on the importance of students having access to the classroom school system with regard to such situations.

When parents and students were getting accustomed to learning the art of coping with COVID -19 there looms a new threat; the news of a decease similar to Kawasaki surfacing. Kawasaki is an inflammatory syndrome and has spread among children in European and Western countries. Sri Lanka is on alert regarding this virus.
The talk now in most houses where there are schoolchildren is when academic institutes would reopen. The regime has stressed time and again that safety and welfare are top priorities when making arrangements for 4.5 million students and 300,000 teachers to return to school.

The education authorities might be feeling bad when children were forced to stay at home and see their 'natural growing stage' being disturbed. The COVID-19 threat is unprecedented. It just swept all citizens young and old off their feet. Even the insurgencies of 1971 and 1989 and the civil war didn't halt education and government exams. Life during the pandemic came to a standstill.

But this challenging period reminded us that education can continue, inside a secure enclosure, and what one must have to succeed is an internet connection or connectivity to television and prime among everything else a solid working brain which would not be unnerved by the spread of any deadly virus.