---
The SAITM issue is still at a stalemate. Public protests, student and trade union demonstrations are gathering momentum. We note that the Department of Government Information has published its policy position with respect to Higher Education and to Medical Education in particular.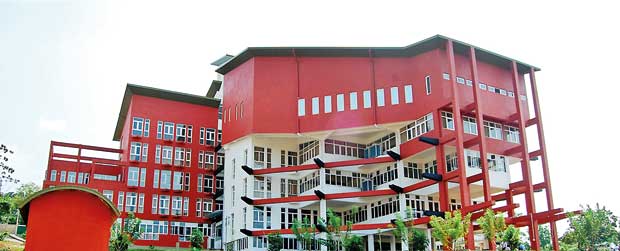 It states: "The private sector is being encouraged to set up quality higher education institutes under government supervision. The government's position is that all such institutes should be managed by a Board of Governors and also listed on the Colombo Stock Exchange" Also, copied below for easy reference, "The standards of medical education in Sri Lanka need to be raised to meet tomorrow's needs. This is an enormous task that the Govt alone cannot do; private sector participation is essentialEnsuring the quality and high standards of medical education is the responsibility of the Govt and leaders of the medical profession. To accomplish this without burdening the taxpayers of thie country who are already bearing heavy burdens, private – public partnerships are needed. Together, we will be able to create a modern health service with higher standards.
Emeritus Professor of Paediatrics
Former Professor in Medicine – both of University of Peradeniya
In this context, following measures will be taken as a law-abiding, inclusive and responsible Govt on resolving the SAITM issue. Students of SAITM who have been successful in the final examination of the degree programme will be provided a clinical training at state hospitals either at Homagama or Avissawella It will be compulsory for these students to face a test to be conducted under the supervision of the Sri Lanka Medical Council ( SLMC) and the University Grants Commission (UGC)The Govt will introduce legislation to stipulate the minimum standards for admission to Medical EducationThe 'Dr Neville Fernando Hospital' is to be taken over by the Govt and be utilized as a Teaching Hospital. The Govt's policy position is that Private Sector must be encouraged to set up Institutions of Higher Education with high standards under state regulatory supervisionThis is the vision of the Govt in creating a liberal environment for the higher education sector for the benefit of all citizens"
We now submit a proposal that has taken into consideration both the Govt position as well as that of most of the other stakeholders and contenders.By and large, these recommendations are in keeping with the hopes and aspirations of most of those who have madevaluable contributions to solve this crisis on purely educational (medical) considerations, i.e without other direct or indirect considerations. This is the need of the hour; not confrontation, but movement towards consensus / agreement for a viablesolution. Let not this issue become a platform for personal or political gains. A MEDICAL COLLEGE AS A PRIVATE-PUBLIC ENTERPRISE Public- private enterprise is in keeping with the Govt stated policy It encourages private sector participation, "managed by a Board of Governors and also listed on the Colombo Stock Exchange" As such, we place before the Government and the public, for their comments and criticism, the following proposals, in a concise form, without going into details of explanations (for brevity)
Right now, only 20% of all who qualify for University admission can be accommodated in the state universities.

THE PROPOSAL
1 Recognising the fact that: a) many students are deprived of a medical education due to reasons, such as the quota systemb) such students are now compelled to spend enormous sums( foreign exchange) for education abroad, often spending extra additional time learning a foreign languagec ) the country could earn much-needed foreign exchange from foreign students (other countries do so) "Right now, only 20% of all who qualify for University admission can be accommodated in the state universities. The number of those who leave the country on higher and other educational purposes is between 50,000 to 80,000 per year. They take a massive amount of foreign exchange out of this country.
At least Rs 2,000 million per year is spent by parents whose children seek medical education abroad.State university medical faculties can currently admit 1,310 (2016 / 17 academic year). The total shortfall of doctors is around 6,000. State universities alone cannot meet this demand" – Deptof Govt Information
2 It is proposed to start an Institute, for the purpose of conducting a Private – Public Medical College, in the form of a Private Limited Company (PLC), or one in the Colombo Stock Exchange.
2.1 The institute shall be situated sited at the present site of SAITM 3 Suggested Initial distribution of shares ( and capital) in the Company 3.1 The number of shares to SAITM shall be calculated in accordance with its present investment 3.2 The number of Govt. shares shall be in proportion to the necessary expenditure, especially that incurred on new buildings; vide sec 7 below
3.3 A similar number of shares shall be offered to the public – to all stakeholders / contenders 4 The Name of the Institute: Faculty of Medicine of a University ( ? Open University) 5 The Control / Management of the Institute shall be by a Board of Governors (BG) consisting of two nominees each of a) the State - such as one from the Ministries of Higher Education , and Health respectively b) the public sector c) SAITM ( the numbers suggested are for discussion ). 6 The responsibilities of the BG would include:
6.1 Setting and maintaining the standard requirements for admission of students – which should be the same as for all state and non-state medical colleges 6.2 All teaching matters , such as i) curriculum, etc, ii ) selection and appointment , with due consideration to those already in the service of SAITM ( at present ), iii) all academic and non-academic staff.
7 The 'Neville Fernando Hospital' shall be expanded to establish non- paying wards to cater to patient needs and the teaching requirements of at least 120 students. The expenses in this connection would be borne by the state. In fact this expenditure is an investment to provide health care service to the public. The land for these additional building would be provided by SAITM 8 The state would provide the resources of state hospitals, such as Avissawella Government Hospital, Sri Jayawardenapura Hospital, Homagama Govt Hospital, to supplement the clinical training of the medical students. There should be objections to such provisions, as this would not be in the interest of one individual, but in the interest of a quoted Company. Furthermore, it should be emphasised that the State, through the Ministry of Health has the sole discretion to take such decisions.
9.Make provision to accommodate at least 120 students . 9.1 Suggest : a) 50 % students on a paying basis b) 40 % students, paying half the stipulated fees c) 10% students on full scholarshipsd) the State to provide 20 scholarships to those in category b (above) 10 The final MBBS examination shall be conducted by a panel of examiners, 50% of whom shall be from other recognised medical schools, approved by SLMC. This is in keeping with the practice of the state medical schools 11. SLMC shall give provisional recognition (to practice medicine) to those who pass the final MBBS , until such time as it grants full recognition for registration . This requirement shall apply to all new medical schools, state or non-state.
The Govt's policy position is that Private Sector must be encouraged to set up Institutions of Higher Education
NOTEWORTHY FEATURES OF PROPOSAL
Offers conciliatory and meaningful measures to the stakeholders, all of whom could be partners in this new venture
Offers a sharing and a "voice" in the management to the stakeholders through the setting up of a Company.
The above two features are a reflection of HUMAN RIGHTS, and the enhancement of DEMOCRATIC SOCIALISM.
Standards of medical educationwould be strictly maintained by the Board of Governors (BG) which is representative of the stakeholders. 4.1Admissions shall strictly conform to SLMC requirements4.2 If any of the present students at SAITM have gained admission without the basic requirements , they would not be entitled to obtain SLMC recognition
The BG would maintain requisite standards for the academic staff. This would apply to all state medical schools as well.
The proposal for a Company ( Stock Exchange) would ensure that no one person or persons would benefit from this enterprise
It is preferred to grant adequate shares to the 'Neville Fernando Hospital', rather than taking it over by the Government ( as suggested above ). This gesture wouldbe hailed as one that is in keeping with the spirit of 'Yahapalana'.
Students, who fail to get into state medical colleges though they have the requisite admission qualifications, would be able to obtain a recognised medical degree at a relatively affordable cost , or even obtaining scholarships – either complete or partial
Financial gain for the country – from foreign students, and from saving the foreign exchange spent for education abroad
The demand for medical education would increase in the future particularly in the Asian countries. In the West,Medicine is not considered to be a vocation of first choice of most young people. Instead, they prefer employment in the IT or similar sectors, due to the low quality of life of medical professionals both during training and afterwards.Therefore there would be a demand for employment of all categories of health workers in those countries. It would open up a huge market place for our graduates, whether state or private. Therefore the question of unemployment for them in our country would not arise.