---
In China, agriculture had long been the most pivotal sector of the economy. A large majority of people had lived in rural villages, until recently. However, by the time Mao's period ended, China's peasants had been impoverished and thoroughly demoralised by those disastrous policies. Deng Xiaoping succeeded in bringing good fortune for Chinese people. He began economic reforms from the vast countryside.

Under Mao's policy trade with foreign countries was miniscule. In 1980, Deng government had designated five areas was "as special economic zones".

The goal had been to attract foreign investments, technology and to produce the finished goods for export. Since the projects had been immensely successful, steps had been taken to increase new economic zones, which had gone on until late 1990s.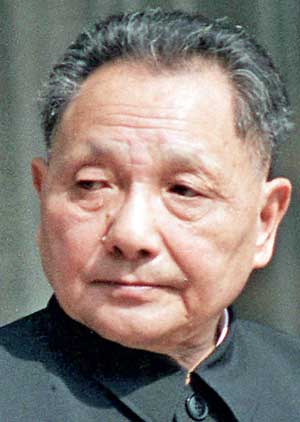 After Deng took over the leadership, the poorest parts in the country began experimenting with a new farming system too on their own initiative.

During the 1979 – 1989 period, the gross output of farming and other related industries had grown by more than 75 percent, the highest in post-1949 China. Accordingly, Deng leadership achieved resounding success in moving 100 million farmers out of poverty.

The Deng government had pushed through vigorously three fundamental transformations: urbanization, industrialization and marketization. Balancing the processes and carrying forward a massive reformation activity had been a daunting task for Deng and his team.

This has been called 'de-agriculturization'. Many peasants, known as 'floating population' in millions, roughly around 10 percent of the total population, had found employment in large and medium-sized cities bringing a major source of supplementary income for rural families.

Deng leadership also relocated more villagers into towns and small cities. It had helped immensely the process of industrialization and urbanization.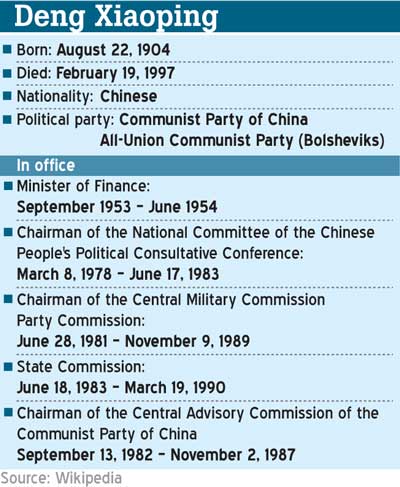 This had facilitated to improve the living conditions. In 1978 there had been less than 3,000 towns. Around 2000, it had exceeded 17000 townships. As a part of the rapid urbanization process, the State had encouraged major urban city centres to incorporate adjacent rural areas into their city limits.

In 1988, as a preliminary step, village-level elections had been introduced. Steps thereafter had been taken to expand the system to townships too. In 2002, Land Contract Law had been passed to provide a legal framework for dealing with various disputes and to provide guidance for various relationships in rural China.

Deng had understood that throughout the history, the well-being of the people had played a key role in the rise and fall of political regimes. During this period, the leaders had been extremely cautious NOT to trigger further social unrest and other disruptions.

The Deng government, after having suppressed the student movement, to regain popular support, desperately searched for better alternatives for implementation.

(Do the Sri Lankan leaders too having fought a deadly war and two insurgencies, which killed over 100,000 act responsibly or are they carrying on regardless unsympathetically to fatten their bellies only?).

The Deng government had been overly vigilant to help generate enough momentum for reform and to defuse opposition. They introduced a gradualist approach for the private sector and the market forces to slowly outgrow the public sector without fabricating any shock to the people.

Deng government also ensured attracting much needed managerial skills, bringing in new ideas. He sent thousands of Chinese intellectuals to Western countries to absorb new information and ideas.
China's success story in economic reforms, is a good case study for Sri Lankan leaders, particularly because Sri Lanka and other former Communist countries in Eastern Europe, Central Asia and Russia had failed in developing open economies.

Since 1990s, there had been an explosive growth in privately owned companies in the areas of construction, real-estate, export-oriented industry and retail. It had thereafter expanded in to other areas such as education, financial and even health-care sectors. Most of these companies are now enormous conglomerates controlling large market shares and huge financial resources.

The government began leasing state lands with the right to use urban lands to real estate developers and to investors interested in public-works projects such as highways. By doing so, government killed three birds with one stone.

First, monies received from leasing of lands and from investors helped the government to finance numerous projects that were held up for want of funds.

Secondly, values of leased lands increased sharply, which saw a boom in the construction industry and related businesses. Third, city dwellers experienced improvements in their living conditions, which helped the government to gain the necessary support for the reform agenda.

In China, when Deng Xiaoping became the pre-eminent leader, at the age of 74, he provided the steady hand, the clear direction, and the political skill for China to succeed. Deng had warned "Those who do not reform must go".

Finally, the government had insisted that industrialization should conform to international standards to build up closer integration with the world economy. China's success therefore had been purely due to good leadership.

And the policies that had conformed to the basic laws of economic development; making it possible to position themselves as a manufacturing hub in the world.