---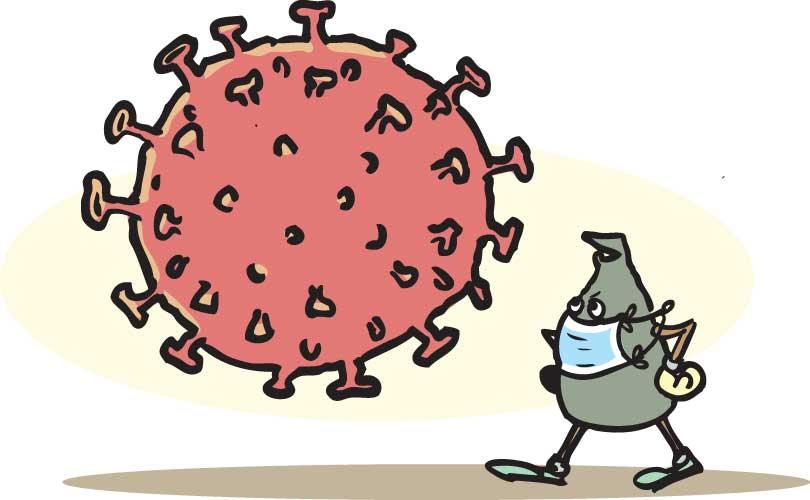 The spread of coronavirus or COVID-19 has prompted the following question: how responsible are we as citizens? This is not a disease like Dengue which is close to home for the local populace. Coronavirus is the first-ever malady to spread almost worldwide within a short spell of time. Just within three months, the latest member of the coronavirus family has invaded more than 120 out of 200 countries, infecting over 160,000 people and killing more than 6,000.
The World Health Organisation (WHO), that declared the threat as a pandemic last week, yesterday described coronavirus as the "defining global health crisis of our time."
When the virus first hit residents of Wuhan in the Hubei Province of China, people in several countries, especially in Europe, discriminated against the Chinese and Chinese descendants in their countries as if they were eternally safe from any such pandemic. Even in Sri Lanka, some restaurants put up notices excluding Chinese visitors. Within three months, nature has proved such discrimination was nothing but a manifestation of the irresponsible mindset of those concerned. Denmark, where a newspaper described (through a cartoon) the Chinese population as viruses, is now a COVID-19 hotspot.
In Sri Lanka, the immaturity and irresponsibility of people are manifested by their opposition to being quarantined after returning from coronavirus hit countries and to the establishment of quarantine centres in close proximity to their homes. Subsequent to their return to the country, several people have left their homes to evade the 14-day quarantine process in designated facilities. This rashness has prevented them from pondering over the wellbeing of their family members: It is a gamble! They may carry the dreaded virus and the first victim may be his or her spouse, son, daughter or parent. The threat wouldn't stop at that. Those family members will in turn be virus carriers and a chain reaction would follow.
True, they are returning to see their nearest and dearest after months or years or sometimes decades; they may be in a restless mindset. But that is not an excuse for them to gift a deadly virus to their loved ones. Besides, the quarantine centres may not have enough facilities for accommodation, especially after a relatively luxury stay in a European country, but that too does not warrant one to mingle with one's family members, friends and relatives. They had even protested when the government first decided to levy a fee of Rs.7,500 – a mere Rs.500 per day in a quarantine centre.
It is in a way childish to protest against establishing quarantine centres for suspected virus carriers in one's area, be it Hendala or Batticaloa, while people live peacefully in the vicinity of IDH where those who are tested positive for coronavirus are being treated. That does not mean the vicinity of quarantine centres are totally safe. Yet, the threat is minimal as proven thus far and it is safer than returnees from COVID-19 hit countries going home with a deadly disease.
At times, certain measures taken by the government are perplexing. One such is the decision to exempt from quarantining passengers arriving from China – where the largest number of COVID-19 cases and largest number of deaths were reported. Besides, in the wake of five Sri Lankans being tested positive for coronavirus on three consecutive days last week, the government announced Monday as a public holiday. It was however illogical as restricting public movement for only a day (three days including the weekend) does not make sense in the light of the magnitude of the threat. The JVP accused the government of limiting the holiday for one day in order to facilitate the nomination process for the April 25 parliamentary election. Subsequently, in the dead of the night on Monday, the government extended the holiday by another three days.
Meanwhile, Samagi Jana Balawegaya leader Sajith Premadasa and his JVP counterpart Anura Kumara Dissanayake along with the TNA have requested the government to postpone the general election in view of the coronavirus outbreak as the election tempo would require more and more human interaction. The government is left to take a prudent decision on the matter.