---
First programme called the 'Small Scale Industries (SSI) Credit Scheme' was implemented almost 40 years ago
In the absence of a "National Education Policy", these 'on the run changes' allow discrimination of rural youth
Proposal to establish three new medical faculties in three State universities is another big fake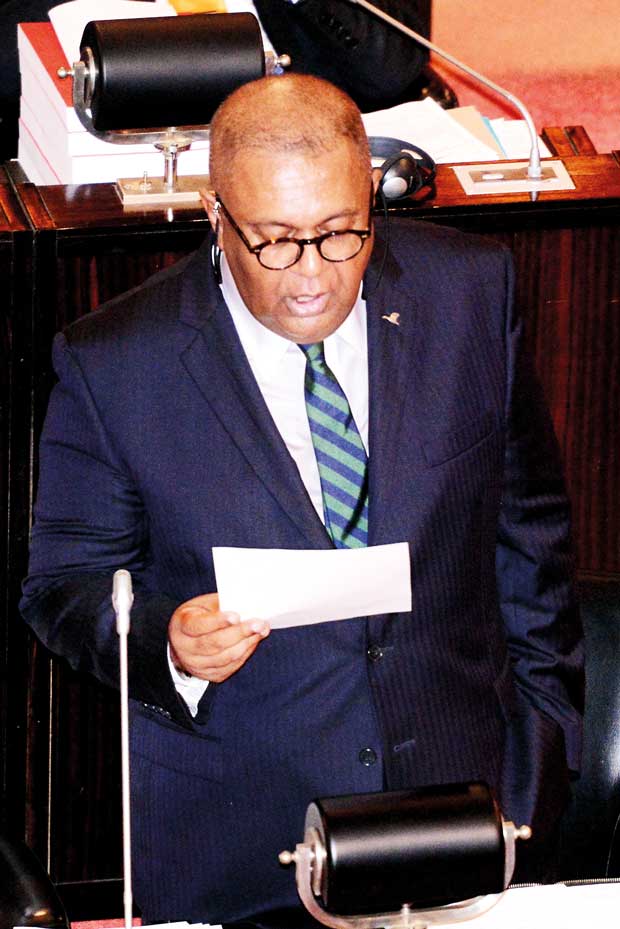 Much has been said and more talked about Mangala's maiden budget, the 72nd budget in Independent Ceylon and now Sri Lanka. Yet there's enough left that can be said and should be said about his budget for year 2018.

Leaving out all controversies over beer and moonshine, pollution-free urban travel and then wild beasts and safari in Yala National Park among many others, Mangala's preamble to the budget stressed the common and the popular statement that, "…since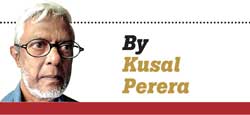 the day of independence, instead of collectively working towards building the nation, we were fighting with each other on the basis of political ideologies, ethnicity, religion, and even on the basis of caste…." His budget proposals should, therefore be, read with that as the context and the objective of this 2018 budget.

Reading begins with the performance of this government. A year ago his predecessor Ravi Karunanayake proposed giving free "Tabs" to school children. PM Wickramasinghe in November 2016 addressing the Asia Pacific Conference in Hong Kong said, "Tabs" will be given to university students on a concessionary price. Where it is now, is not known. So is the major food security project that was allocated Rs. 8 billion. It is now said that, most major proposals for 2017 had simply gone missing from the balance sheets of the Finance Ministry/Treasury. Though a "Task master", Mangala's budget proposals have to be seen with such miserably inefficient performance of his government.

For youth, he does propose many changes and additions to formal education stressing 13 years of schooling irrespective of GCE O/L exam results. He proposes changes to A/L subject combinations, to examination and assessment methodology, proposes introduction of Genomics, Coding, Robotics and Nano science to school curricula, development of e-Text books and allocates funds for the already-launched "Smart" class rooms in selected schools. PM in an observation trip to Sri Jayawardnepura MV, said it would take "a decade to go islandwide". In the absence of a "National Education Policy", these 'on the run changes' allow discrimination of rural youth who will be left a decade, or even more years behind the privileged urban youth.
We need to develop AMPs, PHIs, Midwives and Sanitary Inspectors with better and modern training to establish a preventive community health system

This country has not been able to train enough teachers capable of teaching English in all schools, even after Kannangara Reforms; 73 years ago. And in this country, out of 2,635 schools with classes up to GCE A/L, have only 698 schools with A/L science subjects. Students in schools with only Arts/Commerce subjects have thus been deprived of studying science. The much hyped "free" education system does not provide equal opportunities to all school children with equal quality. A sorry case where governments and the State continue violating "Child Rights" and the Budget contributes in increasing violations.

As such, there is an undisputed necessity in identifying social needs across districts and across different social segments in relation to education. It demands serious social discussion that includes teachers, parents, academics and educationists. In the absence of such social dialogue in developing a policy framework for national education respecting provincial rule, ad hoc changes decided upon by a few in Colombo and brought in as budgetary proposals will not remedy the crisis in education. They will not provide even worthy employment to rural youth in their own areas. All that is being proposed from "Smart" class rooms to Robotics and Nanoscience are for urbanised economic activities. That by itself restricts these proposals reaching the larger rural population.

Proposal to establish three new medical faculties in three State universities is another big fake. We need to develop AMPs, PHIs, Midwives and Sanitary Inspectors with better and modern training to establish a preventive community health system, that would reduce numbers seeking hospital beds for curative treatment. We don't then have to keep packing the health service with medical doctors and waste tax payers' money to build hospitals to accommodate more patients. Also, we seriously lack qualified and competent academic staff in the country to even staff the existing medical faculties like Rajarata, Eastern and Ruhuna. Adding three more would thus be chaotic and would further devalue the quality of medical doctors produced. The question therefore is, what purpose does this proposal serve or seek to achieve?
Inclusivity in society that Mangala stressed in his preamble, also go the same crooked way. Reconciliation is not just about allocating funds as decided in Colombo for housing, infrastructure and livelihood programmes. It is about allowing the people in war affected North-East to have their fair share in deciding what they need for their own future

Reconciliation for an inclusive society has to go with economic growth. "The SME sector must be the backbone of our economy." he therefore concludes."However, the lack of capital or the difficulty in accessing capital due to both the cost of capital and the requirement for collateral have been main impediments in the development of 'start-ups' and SMEs" is his diagnosis. It is said the government initiated eight credit schemes for SME's this year. It is proposed to disburse Rs.15,000 million through these schemes next year and all such schemes to be fused into a single "Enterprise Lanka Credit Scheme".

There is nothing new in this. First major programme called the 'Small Scale Industries (SSI) Credit Scheme' was implemented almost 40 years ago in 1978 through the PB and the BoC in collaboration with the IDB. In 1979, the 2nd programme funded by the World Bank and the ADB, with the NDB overseeing, was implemented through five local banks exclusively for SMEs. They were all, subsidised concessionary loan schemes and continued till 1996. Thereafter, there had been many credit schemes, like SMILE, SMAP, Sahanaya and Saubhagya. By 2010, according to WB data on SME credit facilities, four out of seven commercial banks that covered SME lending, HNB, Commercial, DFCC and Wayamba Development Bank, had SME portfolios of 49.4%, 30.2%, 41.3% and 10.5% respectively, out of their total portfolios.

During these same periods, foreign donor-funded NGOs also pumped in big money into this sector as programmatic aid. The ILO and the GIZ (then GTZ) had their own business training programmes like SIYB and CeFE for specialised training on business planning, management skills, market linkages etc. Local NGOs also ran their own soft loan and credit facility programmes. Thus if SME's over the past decades have not grown to Mangala's expectations, then the problem is not about "accessing capital". The problem is elsewhere in this free market economy. That needs thorough research before pumping in more money at the expense of the tax payer.

Inclusivity in society that Mangala stressed in his preamble, also go the same crooked way. Reconciliation is not just about allocating funds as decided in Colombo for housing, infrastructure and livelihood programmes. It is about allowing the people in war affected North-East to have their fair share in deciding what they need for their own future. It is a fact of life, people need dignity in life, not just material comforts, that too as decided by the Colombo government.But that is what this budgetary proposals are all about. Contrary to his preamble, Mangala is proposing further centralised planning and implementation, completely ignoring PC's and the promise for more power to provinces in a new Constitution. From tourism, fisheries - both freshwater and marine, eco-friendly parks in all LG body areas, to the Carbon tax to be imposed on vehicles, everything has been taken over by the Colombo government from planning, deciding numbers, fixing locations and even the revenue that may be possible if projects are run efficiently.

As far as the Tamil politics and reconciliation are concerned, the budget proposal to strengthen the Police along with the new e-NIC is far more serious than all other proposals on centralising governance, though the TNA leadership in parliament supports this government and its budget. We have in a different context during the past 30 years and more, turned the Police into an auxiliary force in national security. It is in such a context, the police department is allowed to have its own TID. The whole society has lost sight of the fact, the Police Department has to be a civil department. Establishment of the National Police Commission (NPC) has failed in re-establishing it as a civil department.
Mangala's proposal to establish a university for the police including developing competency in special IT skills, wrapped in very timid and innocent lingo goes without question in a Southern society still revelling in war victory. One need to note the marked difference in upgrading competencies of a regular civil department and that of a very corrupt and heavily politicised agency resorting to excesses in law and enjoys impunity. Worst is when Heads of State and Government continue stressing the importance of "National Security". In all countries National Security is nothing but"surveillance and intelligence". In our geo-political region it is mostly about excesses and arbitrary rule.
With that, the authorities given unrestricted access to private and personal information in trespassing "privacy" with the new e-NIC would regularise a repressive police regime. The collected personal bio data and biometrics turned into a centralised and digitized data base would allow intelligence and surveillance agencies to track the location of any individual at any given time. (Read my DM article "eNIC threatens Sovereignty of People of September 8, 2017). That apart, there is also discussion of establishing a GPS tracking system of all vehicles, explained as a necessity to control and track down crimes.Using new technology to heavily centralise surveillance and intelligence under the Colombo government narrows down all possibilities of reconciliation in a democratic civil society.It is with such development, Managala's budgetary proposal on a Police University and IT skills development should be assessed.

The major, politically relevant proposals in this budget thus leads to controversies and contradictions on what Mangala said would be his and his government's objective in driving this economy for growth. Economics that contradict his politics.