---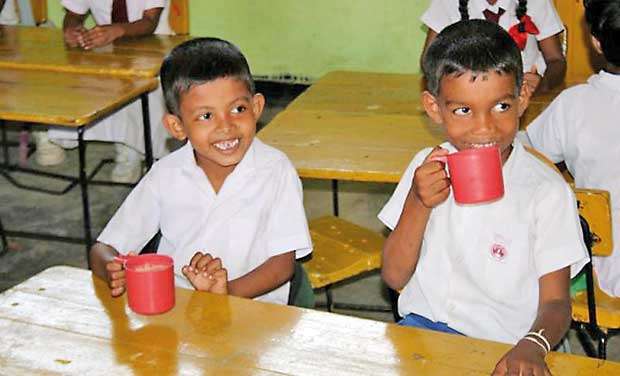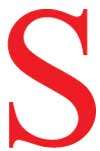 ri Lanka is considered a lower middle income country by its donors, but many of its children remain hungry. In some schools that I visited in the North, teachers told me that a noticeable number of children are motivated to come to school because of the mid-day meal. Some children they say, even take a part of their lunch for those hungry at home.
After the war, the World Food Programme and the Government have had many such school meal programmes in the North. Worryingly, there are reports that suggest such mid-day school meal programmes in the North are to be reduced.
The need for state nutritional programmes for children is not limited to the North, rather, it is a national problem. The Demographic Health Survey 2016 measuring children under the age of five claims 17% of children are stunted (short for their age), 15 % are wasted (thin for their height) and 21 % are underweight (thin for their age). So, just when Sri Lanka is congratulated for its lower- middle income status due to its higher per capita GDP, the nutritional state of children is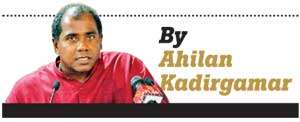 shameful for a country with historically high human development indicators despite low per capita GDP.
In this context, there is recent positive news that the Government is considering a national programme to provide all primary school children with a daily supply of 150 ml of milk. Indeed, when it comes to the nutrition of school children, this would be a welcome initiative.
I discuss below the production and distribution of milk, as a holistic approach to nutrition and related livelihoods, which are necessary for sustaining such initiatives. I draw on an ongoing study and initiative by the co-operative movement in the North, to both strengthen the dairy sector and contribute towards nutrition in the region.

Milk production
Increasing production of milk towards becoming self-sufficient has been a priority of national policy for some time. However, national supply is far below demand. National milk production in 2016 was 450 million litres of cow and buffalo milk, but an additional 728 million litres of milk and milk-based products were imported to a value of Rs. 36,338 million to meet demand. The Ministry of Health recommends a daily milk intake of 200 ml per person, translating to an annual production target of 1,500 million litres for the population of 20.5 million. With increasing demand for milk, even as local milk production has been increasing, the share of national imports of milk and milk-based products have risen from 53% to 62% from 2013 to 2016.
"The proposed new initiative to provide liquid milk to all schoolchildren will be a major boost for not only nutritional enhancement, but also to propagate the culture of liquid milk consumption"

If we take the Northern Province, in 2016 annual milk production was 39 million litres, contributing 8% to national milk production. Approximately 60% of all milk produced in the North was formally collected, the balance being used for household consumption or sold informally to local shops and consumers. The total annual consumption of milk and milk-based products in the North is approximately Rs. 5 billion. However, Rs. 3.5 billion or 70% of such dairy consumption is in the form of powdered milk with lower nutritional value at higher cost and ultimately resulting in lower levels of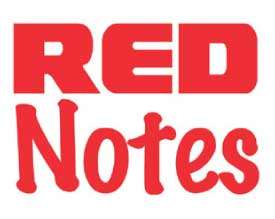 nutritional intake for children. The issue in the North as in the rest of the country is the lack of both distributional and refrigeration facilities as well as problematic propaganda resulting in the widespread consumption of milk powder.
In this context, the proposed new initiative to provide liquid milk to all schoolchildren will be a major boost for not only nutritional enhancement, but also to propagate the culture of liquid milk consumption. Initial discussions for this milk programme lean towards the distribution of UHT milk packets, which can remain unrefrigerated for six months. While such unrefrigerated milk packets can be convenient for distribution, it may not be the best solution for sustaining production, distribution and increasing the consumption of milk in the rural and milk producing districts of the North, and for that matter many other parts of the country.

Livelihoods and consumption
The dairy sector in the North is an important avenue for livelihoods and income generation. In the
Vanni districts in particular, many households have cattle, and as with the dairy sector around the world, co-operatives play an important role in the collection and distribution of milk. Therefore, with a major programme as with the distribution of milk to all primary school children, a daily demand of 15,000 litres of milk can be created by the approximately 100,000 primary school children living in the Northern Province. In other words, this programme will create a daily demand for approximately one fifth of the milk formally collected in the region.
I would argue that if fresh milk consumption has to become part of our way of life, milk production and distribution, have to be linked to the local community. With the network of dairy co-operatives in the North for example, whose members are the parents and relatives of the children who are going to be served with such milk, the collection and distribution of such milk should be done locally.
One worrying aspect of the proposed school milk programme currently being formulated is that it is large corporations with the capacity to produce UHT milk who are likely to be contracted to distribute 150 ml milk packets purchased at a fixed price of Rs. 21. Alternatively, if local co-operatives are given the opportunity to distribute either fresh milk or refrigerated pasteurized milk packets, they can either supply it for lower costs of say Rs 15 or increase the incomes of local farmers by supplying at Rs. 21.
Nutritional enhancement is necessarily a long-term initiative. And the Government's investment in this school milk programme for primary schoolchildren is one in tune with the legacy of free education, which is one of the major strengths of our society. However, both nutrition and education are very much tied to the state of our communities and their livelihoods. When poverty increases both nutrition and education suffer. Would it not be prudent then to ensure that progressive initiatives such as this milk programme for primary school children utilizes local production and distribution, and in the process create a culture of fresh milk consumption?