---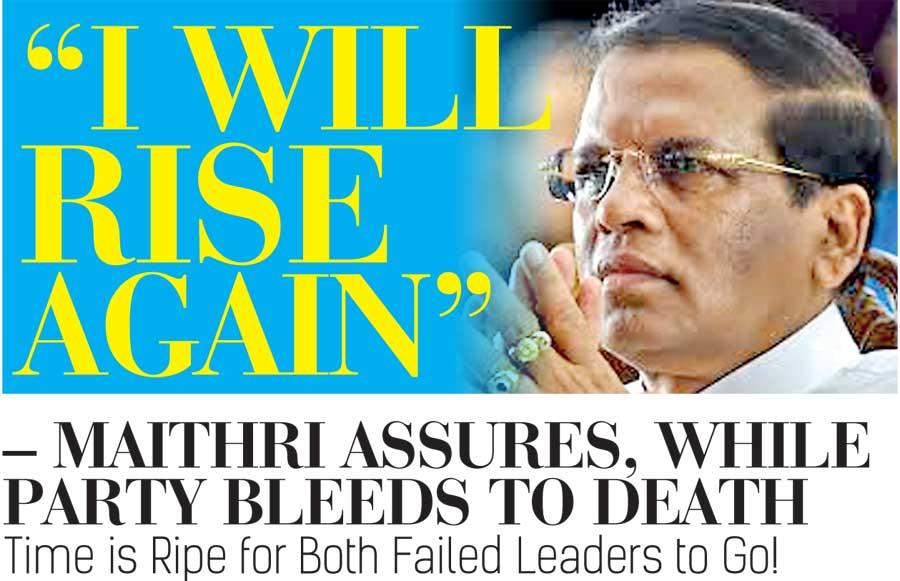 Daily Mirror, last Monday reported a detailed account of a meeting held in Polonnaruwa to felicitate the ex- President Maithripala Sirisena. "I will rise again. I have not ended my political career with the end of my tenure of office as President, as some people think. I will rise again to serve the people of this country. I will serve the people until the last breath of my life…"continuing he said, "I feel and see through what some say and do, they are of the impression that I have finished my political career. However, instead I will reemerge in politics." Said Maithripala Sirisena, the disgruntled former head of state who failed in all his endeavours at continuing an extended one year in office; who tried other alternatives and worked with a section of his loyalists to convince the SLPP leadership to promote him either to contest a second term for presidency or nominate for the plum post of Prime Minister, while he himself was colluding with Sajith Premadasa on a different agenda.
Stable Leaders know where they Stand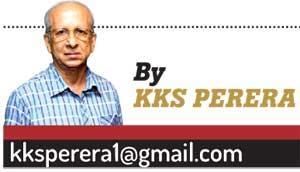 Fallen from grace, with loyalist one by one deserting Polonnaruwa looking for greener pastures in Medamoolana, he laments that even Abraham Lincoln, Dr. Martin Luther King who struggled against apartheid and Mahatma Gandhi in India, who loved people and laboured to serve them were subjected to insult, affront, and contempt and assassinated. The truth is that His Excellency fell from grace on the day he abruptly dissolved parliament on June 26 2015, to prevent the COPE report on Great Bank robbery being placed before it the next day exposing his then 'pal' Ranil and his team of robber barons for daylight Bank heist.
SWRD and Sirimavo sought after a practical third route next to which democracy, social justice, and economic development could be achieved. They abide by the norms of democracy, except when Sirimavo extended her term by two years in 1975. They never brought disrepute to the party, like Sirisena, who entertained through back-door six or seven rejects not only to sit in Parliament but a few of them as Cabinet ministers.
Lack of Stability erodes Trust
Sirisena, the only man who had guts among spineless leaders that the anti-Rajapaksa Movement approached to come forward in 2014, in fact gambled with his political future in answering the clarion call. However, once elected Sirisena paid scant respect for his priorities and rushed to grab the leadership of the SLFP. In reality 70 percent of the party's former legislators and 90 percent of village-level supporters of his party were passionately urging a return of Rajapaksas. MS once elected, ignored the leadership of UNP and its affiliates. He was highly unsuccessful in grasping this reality; the best option would have been to resign from SLFP/UPFA leadership and allow them to elect their own leader and play the role of the neutral statesmen.
"He was highly unsuccessful in grasping this reality; the best option would have been to resign from SLFP/UPFA leadership and allow them to elect their own leader and play the role of the neutral statesmen"

By trying to become a Legislator, like what his predecessor did in 2015, he would block an opportunity of a young person entering parliament from his district. He did not honour his election manifesto, but, selected a path of dirty politics destroying the once powerful SLFP, which proudly claimed 124 seats by itself at 2010 general elections to near oblivion. When the party was progressing at General election campaign in 2015,Sirisena as its new leader hammered a near-fatal blow on it by declaring that a Rajapaksa would not be sworn in as PM in the event of a victory. [a parallel statement was made by RW during recently concluded campaign, that he would continue to serve as PM even after the election of Sajith as President.]
SLFP and Demolisher Born within 24 Hrs?
The Sri Lanka Freedom Party commemorated its 68th anniversary under its leader Maithripala Sirisena in last September, who was born on September 3, 1951 a day after the party was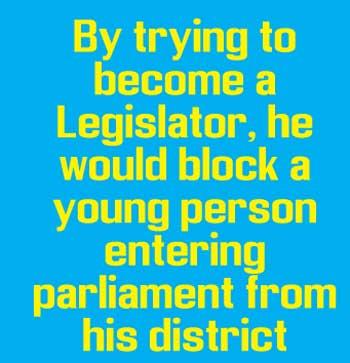 inaugurated by the founder SWRD Bandaranaike on September 2, 1951. The SLFP and its demolisher, both born within the space of 24 hours?
The young man from Anuradhapura who followed his footsteps in November 2014 was given a great responsibility by him as Minister of Agriculture and ignored all complains against him when he rented a half built, unoccupied building for rupees 20 million a month for two years. Sirisena made a big hue and cry and a valiant effort over hanging a few randomly selected narcotics dealers in death row, and earn a few plus points. When the Courts debarred him from doing so, he made a U-turn and released a death row man, in real maithree fashion, who murdered his fiancée, jeopardizing his bold claim to bring back the hangman. Maithri violated the constitution of the nation in November 2018 by dissolving parliament, a serious flaw that deserved impeachment. During the 21/4 Zaharan's Easter bombings, he failed to comprehend numerous intelligence warnings, but, offered a plum post in foreign service to the IGP in return for relieving himself from the embarrassment of an impeachment, by convincing the police chief to admit responsibility for his dereliction
of duty.

It has been revealed that we spent US$ 236 Million to pay for Pepper, Kurakkan, Cinnamon, Melon, Ginger,Coconut, and Arcanut imported in 2018 alone. The immediate ban has already resulted in Pepper fetching 900/- per Kg compared to earlier 500/- . The total import bill during Maithri's rule, can be deduced to have exceeded the benefit of US$ 450/- offered by US under the MCC agreement.
Sirisena with his vast experience in politics and governance did not object to appointing a Singaporean as CB Governor when equally or better qualified, Sri Lankans may be available. When it became obvious that Mahendran has cheated the state, why did he sanction continuation of his services encouraging the man to repeat or commit a bigger scam a year later? Sirisena extended his maithree to a senior politico by re-appointing him as a cabinet minister despite the Bond commission appointed by him recommending legal action against the suspect on two counts, of lying before the commission and accepting a bribe worth 160 million from the perpetrators of Bond Scam. True, Sirisena was not a beneficiary, but, can he satisfactorily explain lapses on his part that might have aided the perpetrators, and the process of cover-up led by Ranil, as well?
"Frequent foreign visits by him with hordes of officials and family members that did not bring anything which is worth to the country, was only a waste of poor indirect tax payers' hard earned daily wages"

After exchanging showers of mutual praise and accolades on each one's 'great performance' President and the PM and his cabinet at their final cabinet sitting, unaware of the fact that they jointly dragged the economy down to 2.9% to be at the bottom of SAARC, behind Afghanistan, Maithri made a humble appeal to the ministers to provide him with the luxury of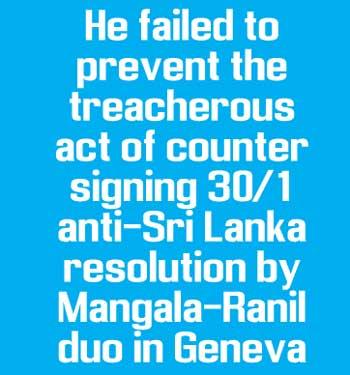 continued stay in his massive complex renovated at an exorbitant cost of Rs.180 mn by converting two mansions into one. Though he failed to use his influence to get the Bank robber extradited, his mithree towards Singapore was abundantly exposed by not intervening in the trade agreement with them that allowed container loads of garbage shipped to this island 'to protect the environment from pollution, his pet subject.' Maithri failed to prevent the treacherous act of counter signing 30/1 anti-Sri Lanka resolution by Mangala-Ranil duo in Geneva. He burned midnight oil in the house to get the 2/3 for the 19A, not realising that Ranil conspired with Jayampathi and Sumanthiran to get all the executive powers transferred to himself.
Frequent foreign visits by him with hordes of officials and family members that did not bring anything which is worth to the country, was only a waste of poor indirect tax payers' hard earned daily wages. In the latter part of his tenure, that is from early 2018,Sirisena became extremely unsteady and nervous, trying various alternatives and shifting loyalties alternatively from CBK to Ranil and to Rajapaksas and then to Premadasas like the proverbial 'stick planted in mud'. Even after SLFP decided to support the SLPP nominee, Maithri covertly supported Premadasa, as recently revealed by UNP stalwarts.
Stable leaders provide a stabilizing authority on others
Dear Mr. Srisena, please retire and take some well deserved rest. Your return to politics means the tax payer will be burdened with additional costs to maintain you. You cannot restore or resurrect the past glory of the party. UNP which undergoes a similar problem with its own leadership crisis will never head for a natural death, because with all internal bickering, unlike SLFP, they know what they are doing. They will gradually bid good bye to their aging leader.
CBK has deserted her destitute 'Api Sri Lanka'; time is ripe for Maithri-Ranil combine to bid good-bye to politics with dignity.