---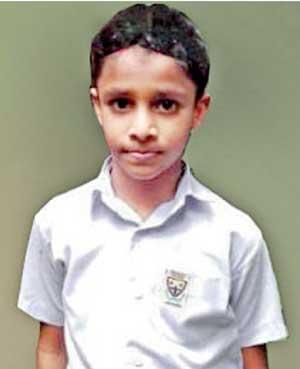 By Pushpakumara Mallawarachchi
In a competition held by Google, a student of Veyangoda St. Mary's College won the first place as the youngest author on Environmental exploration.
The eight-year-old Isuru Arunoda Nakandala, a grade four student has earned this rare reputation. Google has selected the English copy of a book titled ''Horagolla National Park and the beauty of the animals we meet there'' authored by this student referring to the Horagolla National Park.
Isuru who had a great liking for animals from his early childhood, has written this book in Sinhala, which was later translated into English by his father Harsha Udaya Kumara Nakandala. This book which was then featured on the internet had been selected as the best exploration book on environment.
Earlier Google had published on the internet a publication on the exploration of environment by a nine-year-old American female student. It is a significant event that this time a Sri Lankan student's creative work is being selected.
The principal of St. Mary's College Veyangoda B.D.I.K. Karunarathne said that he was much pleased that a student of his school had won a global award.