---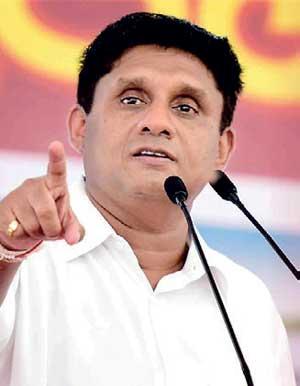 Minister of Housing and Cultural Affairs Sajith Premadasa yesterday warned that he will not allow anyone to fulfil his or her dream of becoming the President or Prime Minister of Sri Lanka by promoting communalism.
Mr. Premadasa said this at the opening of Senpath Suraliyagama in Hambantota yesterday. "It is those who try to capture power that are behind the recent acts of violence. They make plans to capture power by force and by fanning the flames of hatred. True Buddhists should not get deceived by such persons. I, as the son of the late President R. Premadasa, will not allow anyone to grab the President's or Prime Minister's post by promoting communalism," Mr. Premadasa said.
"No ethnic group should be identified as terrorists just because some members belonging to that group have become terrorists. What we need to destroy is the scourge of extremism not a particular ethnic group. If a particular ethnic group is harassed saying they are extremists or terrorists it will help the IS terrorists to achieve their goal," he added.
Minister Premadasa said that a person who is patriotic should denounce extremism.
He added that the terror groups who were behind the Easter Sunday attacks have been defeated and destroyed. He said no one should create unwanted problems in the country again.
It is those who try to capture power that are behind the recent acts of violence. They make plans to capture power by force and by fanning the flames of hatred