---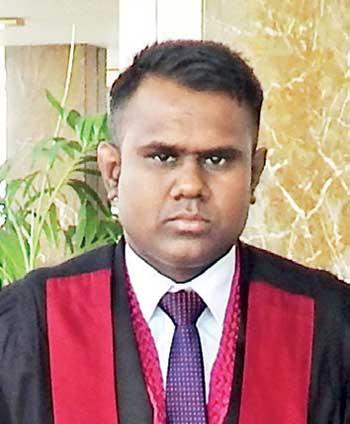 By Sheain Fernandopulle
Indika Bamunusinghe, a prison inmate on death row received his Master's Degree at the Kelaniya University Convocation held at the BMICH yesterday.

He is the first in Sri Lanka and fifth in the world to obtain a Master's Degree during the period of imprisonment

He was serving life imprisonment after being sentenced to death.

Indika Bamunusinghe completed his Masters and was conferred with the Master's Degree during the Kelaniya University convocation ceremony held at the
BMICH yesterday.

Mr Bamunusinghe graduated in his Bachelor of Arts (B.A.) degree programme in Social Sciences from the University of Sri Jayewardenepura in 2017 and started preparing to read for his Masters at the Kelaniya University.

He has read for his degree from Jayewardenepura University in the subjects of Sinhala, Buddhist Culture, Social Science and Criminology, while subjects studied for the post-graduate degree from the Kelaniya University were Social Science, Social Culture, Social Research, Combined Social Sciences, and Contemporary Social Science.

He said that his wife helped him in his studies for the degree providing him with the tape-recorded lectures from the university with the assistance of the University staff, complying with prison regulations, under the guidance of Commissioner of Prisons (Rehabilitation) Chandana Ekanayake.

Speaking to the Daily Mirror, Mr. Ekanayake said the request made by the inmate to register at the Faculty of Social Sciences at the Kelaniya University to sit for his Masters was endorsed by the then Prisons Commissioner-General Nishantha Dhanasinghe. "This is the first occasion in the history of the prison in Sri Lanka and the fifth in the world where an inmate obtained his Master's Degree. Therefore, it is a rare privilege for the inmate and also the prison. We salute him and wish him well for all his endeavours. I should mention that this person has taught us a good lesson of striving hard to achieve the goals irrespective of whatever condition you are in," Ekanayake said.

Bamunusinghe was assisted by a former University lecturer, who was also an inmate when Bamunusinghe was preparing himself for the BA Degree programme in Social Sciences," Mr Ekanayake added.