---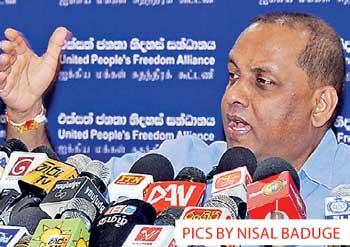 By Sandun A. Jayasekera
President Maithripala Sirisena has not yet decided whether to contest the forthcoming Presidential polls or not, General Secretary of the UPFA, former Minister Mahinda Amaraweera
said yesterday.

He added that President Sirisena has more important national issues before him than the Presidential election such as taking the country out of the mess created by the Easter Sunday terrorist attack, restore law and order and promote reconciliation in the country.

Responding to journalists at the UPFA news briefing yesterday at the SLFP head office, Minister Amaraweera said it was premature for President Sirisena to declare his stance on the Presidential poll as it is almost five months away.

"He will take the right decision at the right time," Mr. Amaraweera said.

Replying to another query on the mass resignation of all Muslim Ministers, State Ministers and deputies from their posts in solidarity with controversial Minister Rishad Bathiudeen, he said they must also declare collectively their disagreement and protest to Muslim fundamentalist terrorism.

Commenting on the 11-point piece of legislation presented to the Parliamentary sectoral committee on National Security by the SLFP, Mr. Amaraweera said the discussions at the sectoral committee had shown much progress.

"Our objective is to pass these proposals as a single law in Parliament to wipe out any form of terrorism from the soil of Sri Lanka. The discussions with various Ministries, officials and political parties have been extremely successful. Premier Ranil Wickremesinghe opposition leader Mahinda Rajapaksa, TNA leader R. Sampanthan and all other political party leaders have responded positively to the proposals. As such, our intention is to pass the draft Act unanimously in Parliament in two months without division," Mr. Amaraweera stressed.
Restricting child marriage, declaring minimum age of an adult as18 years, preventing of preaching, promoting and spreading of religious extremism, opening of madrasas or religious schools in a haphazard manner, prohibition of all religious fundamentalist groups and organizations, proscription of wearing face veils that conceal identification of an individual and halal conformity for all foods other than meat and education reforms etc. have been widely discussed and agreed upon for legislation at the sectoral committee.

Parliamentarian, Lasantha Alagiyawanna said existing laws are not strong enough to fight terrorism successfully and that is why we need new and strong legislation.